SERVICE PACKAGES
SERVICES
INCLUDED IN OUR RATES
SERVICE INITIATES WITH RECEIVAL IN THE CITIES OF LETICIA (COLOMBIA), TABATINGA (BRAZIL) AND/OR SANTA ROSA (PERU) AND ENDS WITH DELIVERY IN THE AFOREMENTIONED CITIES
1.0. Validity: From the 1st. of May, 2020 and valid until the submiting of new ruling and/or conditions.
2.0 Included services:
2.1. Receival of the guest(s)/visitor(s) at the airports or hotels of the aforementioned cities, accompanying them at the authoritie´s offices through the compulsory emigration and inmigration processes (mandatory by law for all guests, all which have to present a valid passport; none fulfiling of this law may result in sanctions and fines, which run solely to the responsibility and cost of each affected guest! Citizens from countries needing a brazilian tourism visa must carry that valid visa in their passports) and all taxi-services from/to these authoritie´s offices and from/to the river-port(s).
2.2. All requiered transports on water and on land from/to the departing places and from/to the Reserva Natural Palmari, as well as all terrestrial and transports on water in order to undertake all activities and entertainment according to the chapter "Activities".
2.3. Full lodging and catering, including beverages, also the alcoholic beverages, last only for adult guests.
2.4. Supply of eco-soap, eco-shampoo, insect eco-repellent, all needed towels, bed- & hamock mosquito-nets and linnen.
2.5 The complete portfolio of all activities and undertakings offered by the Reserva Natural Palmari
2.6. All requiered gear, equipment and transport conveyances needed to accomplish all activities in the Reserva Natural Palmari, not including the specialized items and equipment needed for specific activities, such as sport-fishing gear, scuba and/or snorkeling items, binoculars, telescopes, drones and other which must be provided by the guest.
2.7. One private guide in charge specifically of each reservation, be this reservation an individual or group reservation and irrespective of the service package booked.
2.8. Attendance by personnel towards tidyness of the resting quarters, bathrooms and social areas, as well as boat pilots and rowers for the dug-out canoes/kayaks and similar.
2.9. Presence of multi-lingual volunteers in charge of translating and assisting in the social areas, kitchen, restaurant, terraces and the guides.
2.9.1. "Al risks" insurance coverage in case of death, accident or sickness in the field.
3.0. Excluded services:
3.1. All food, beverages or items not bought by our own authorized personnel or whilst being outside the premises of the Reserva Natural Palmari, as well as any other private shopping desired by our guests.
3.2. The "canopy" (tree-climbing to the canopy platform installation) activity, which is sepparately offered, quoted and operated by several inhabitants of the neighbouring community "Palmari" under their private management and responsibility.
4.0. Policy of the Grupo Travesías S.A.S. agency/tour operator and the Reserva Natural Palmri destination:
4.1. Policy of the Grupo Travesías S.A.S. agency/tour-operator regarding the cancellation of a reservation: Money refunds must be requested and handled through the Grupo Travesías S.A.S. agency/tour-operator and will only be considered for withdrawl or changes made to a reservation in amounts of 50% for advisals before 10 days of initiation of the reservation, 25% during the mentioned 10 day period and no refunds will be made for "no-shows" and/or visitors deciding to leave the Reserva Natural Palmari prior to the end of their original reservation.
4.1.1. Visitors, which decide to shorten their stay at the Reserva Natural Palmari for any reason whatsoever will be transferred to Tabatinga/Leticia only if a river transport conveyance has been priorly sceduled for that specific day of leave and if it holds enough space for these additional visitors. Otherwise, the Reserva Natural Palmari will transport these visitors to the Atalaia do Norte village from where they can contract their further transportation on their own account and risk to Tabatinga/Leticia.
4.2. Policy of the Grupo Travesías S.A.S. agency/tour-operator regarding cancellation of flights: (a) Should any airline cancel the flight of an incoming guest, the Grupo Travesías S.A.S. agency/tour-operator will move the relevant reservation forward, as far into the future as possible and only if not affecting other future reservations. (b) Should any airline cancel the flight of an outgoing guest, the Grupo Travesías S.A.S. agency/tour-operator will not be held responsible economically or for any circumstance whatsoever that might arise from said cancellation and the guest must claim and handle all relevant issues with the airline, directly.
4.3. Any service/topic/request not included in the present text and web page in general is to be understood as not integrated / not included in the services rendered by the Grupo Travesías S.A.S. agency/tour-operator and the Reserva Natural Palmari destination.
4.4 The Grupo Travesías S.A.S. agency/tour-operator and the Reserva Natural Palmari destination will not sign responsible and will not reimburse any expense related to any loss/ theft or similar of personal objects belonging to our guests, accidents occurring during the stay and/or sickness diagnosed during or after the visit to the Reserva Natural Palmari.
GETTING TO THE RESERVA NATURAL PALMARÍ & VISITORS CENTRE
ROUTE TO THE VISITORS CENTRE OF THE RESERVA NATURAL PALMARI FROM LETICIA (COLOMBIA), TABATINGA (BRASIL) OR SANTA ROSA (PERU)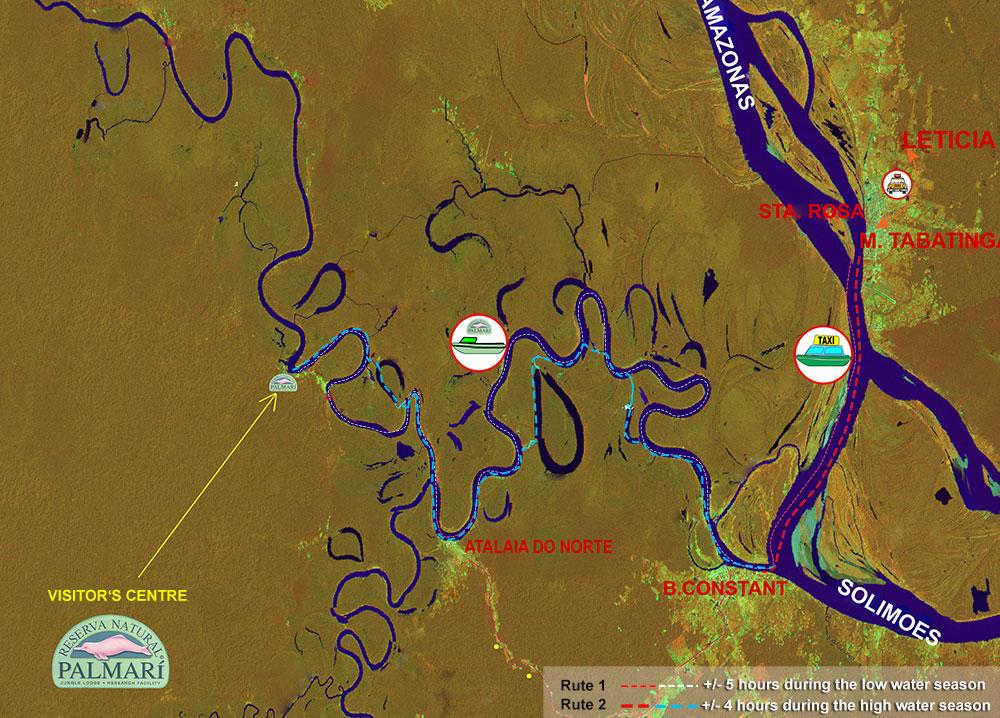 LODGING & CATERING
VISITORS CENTRE & FACILITIES & ELECTRICITY & COMMUNICATION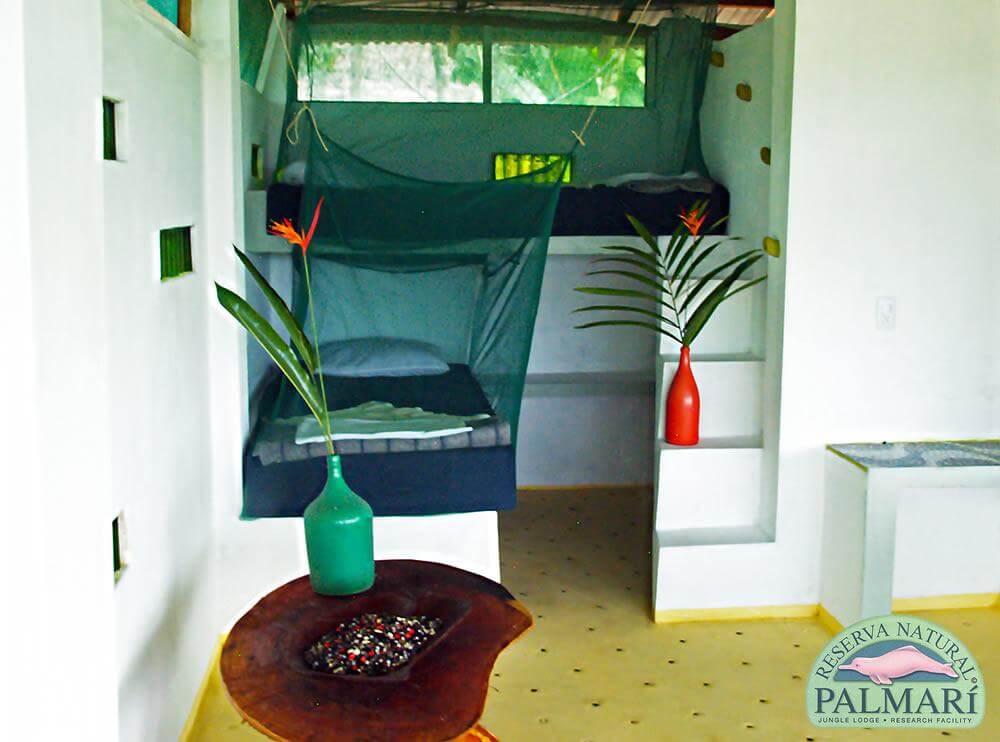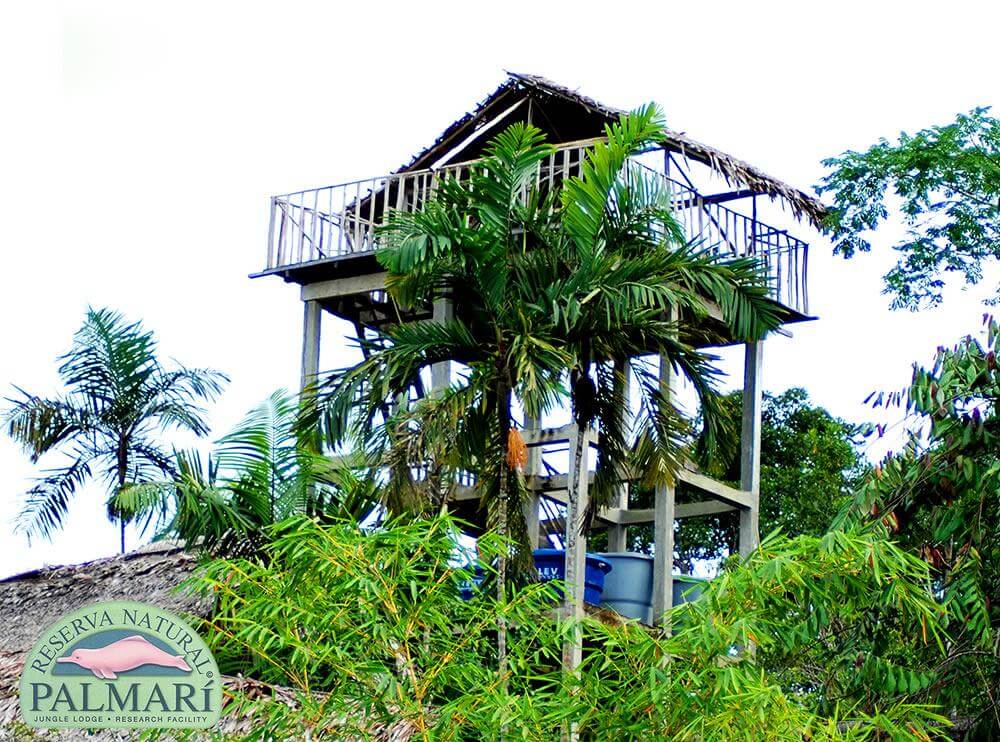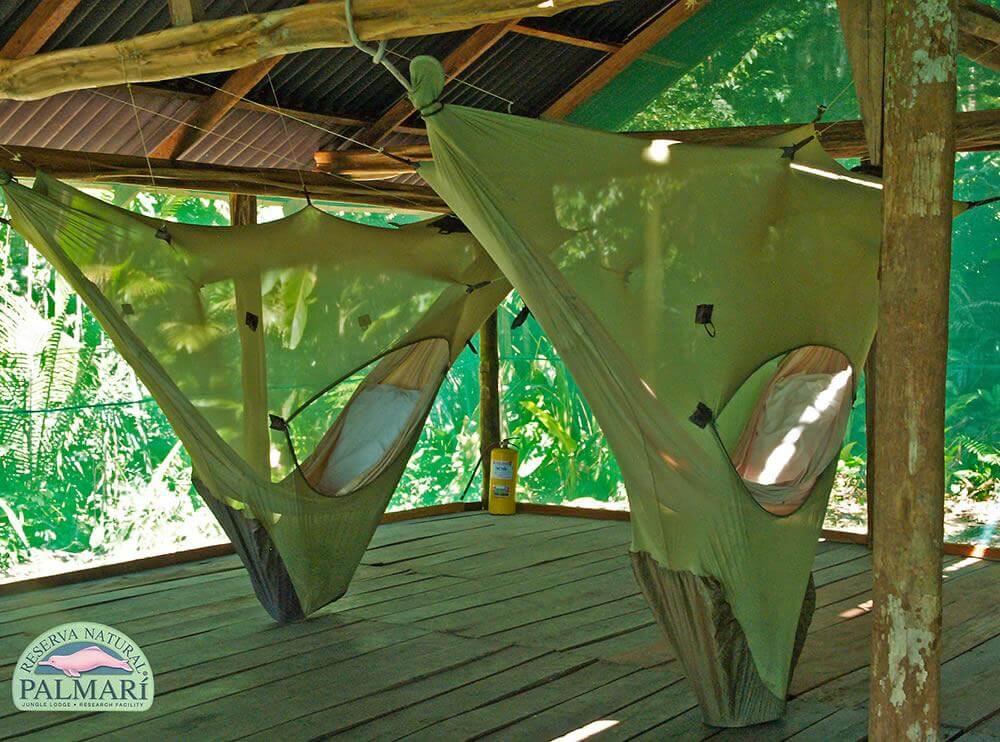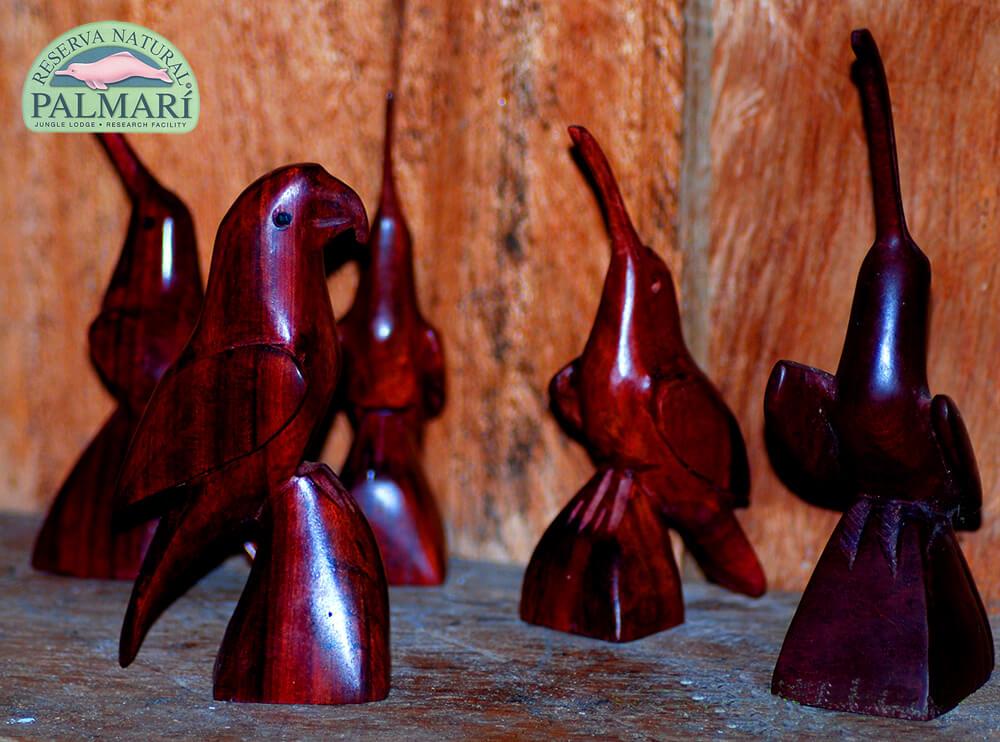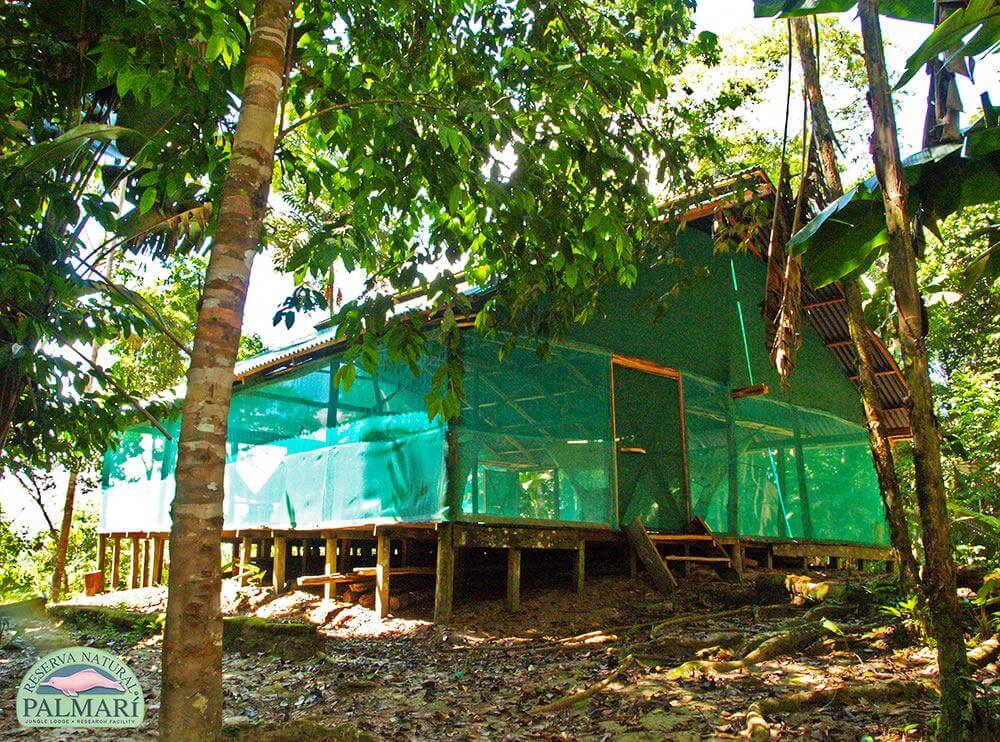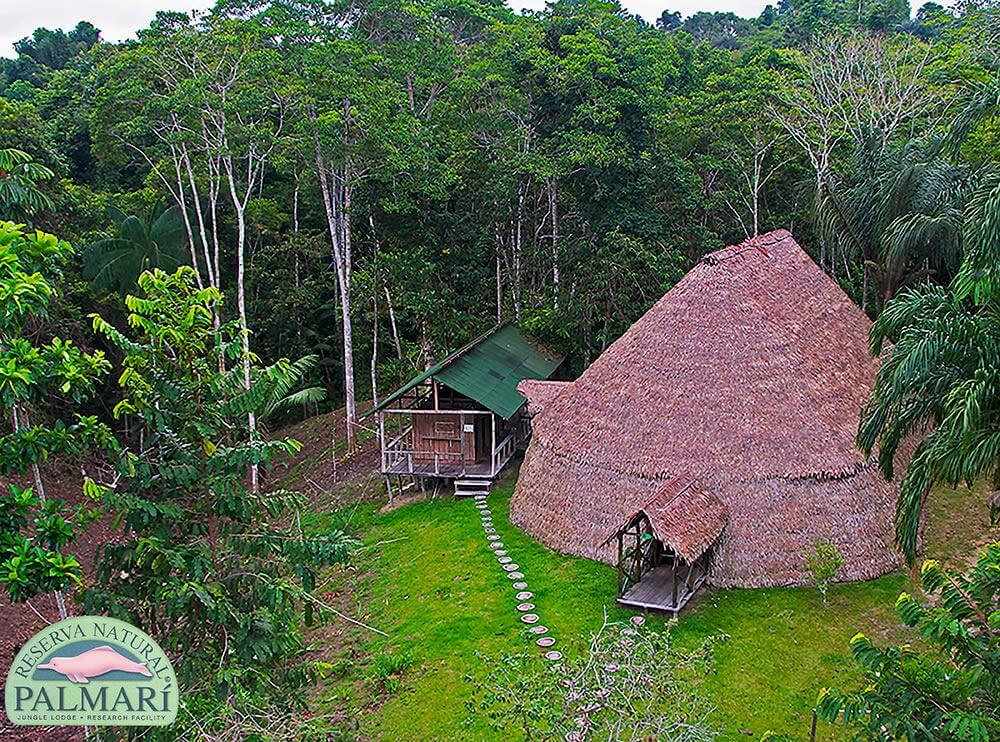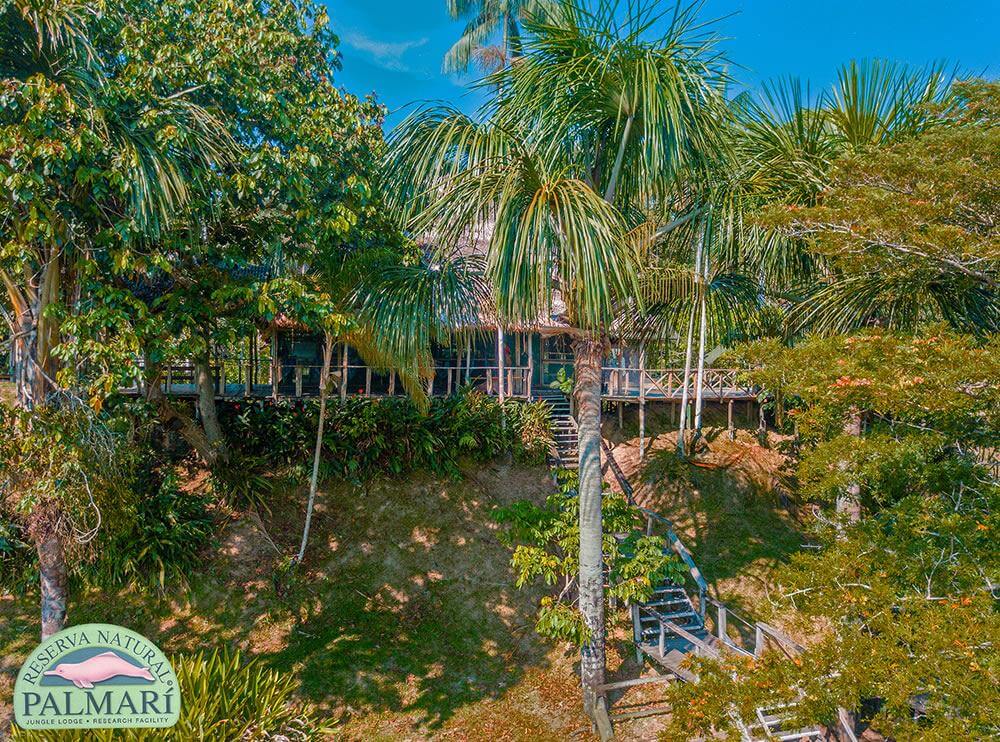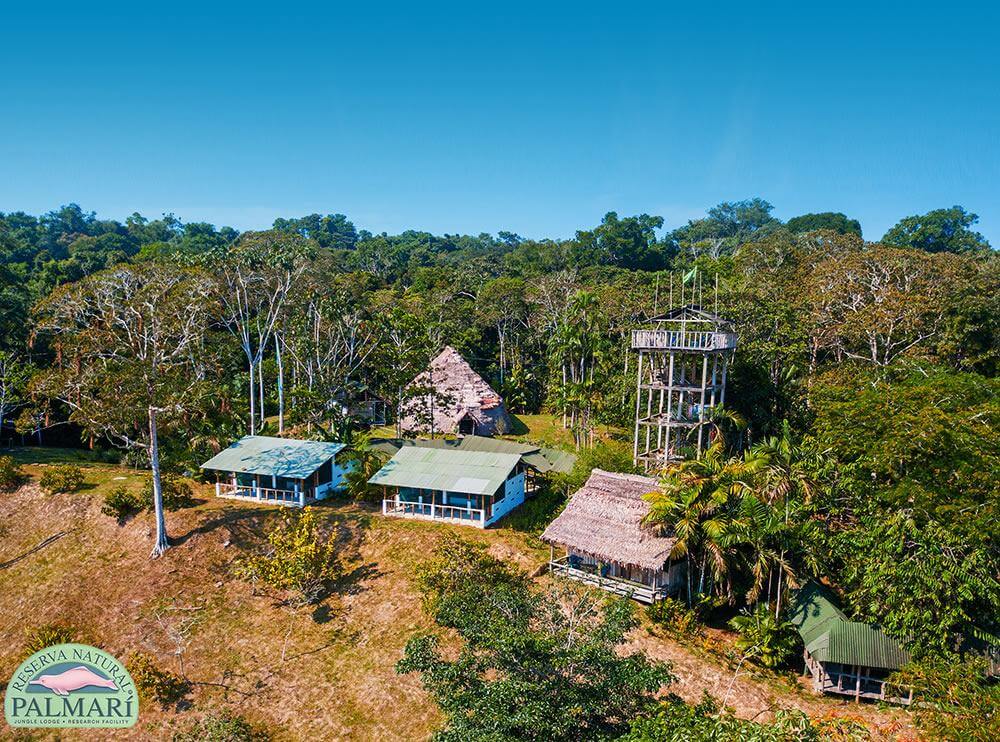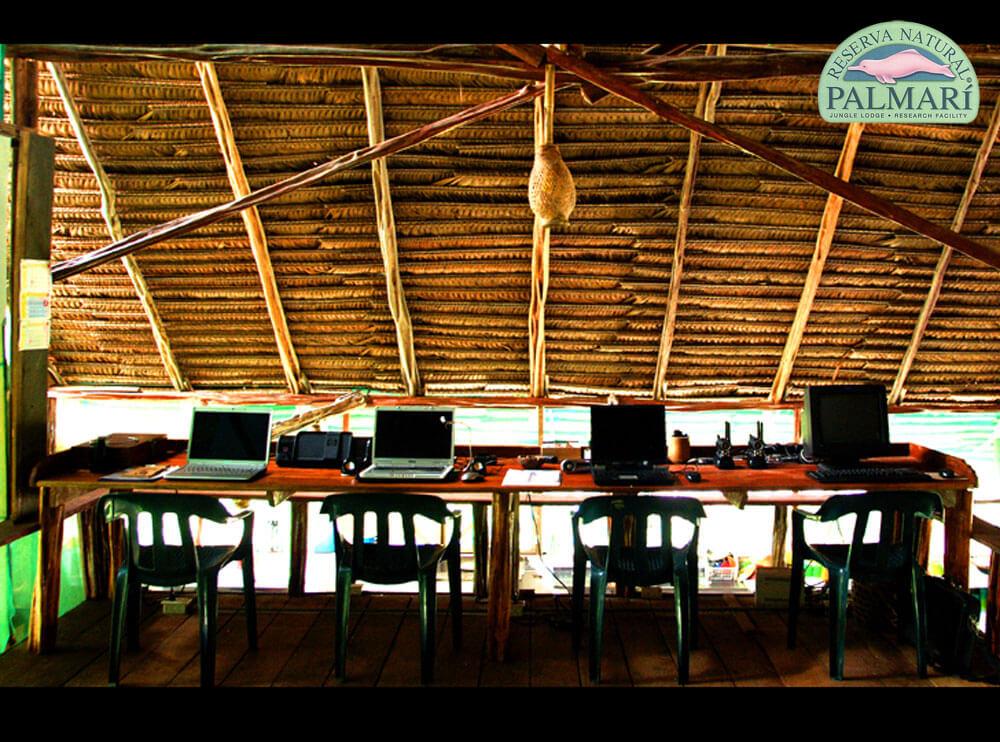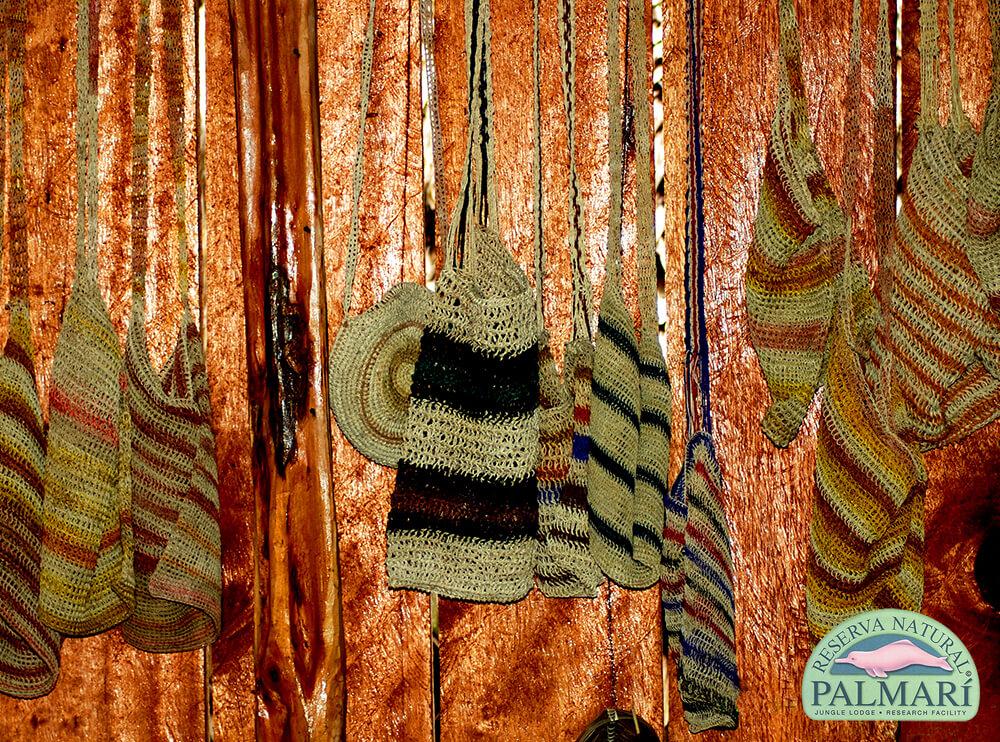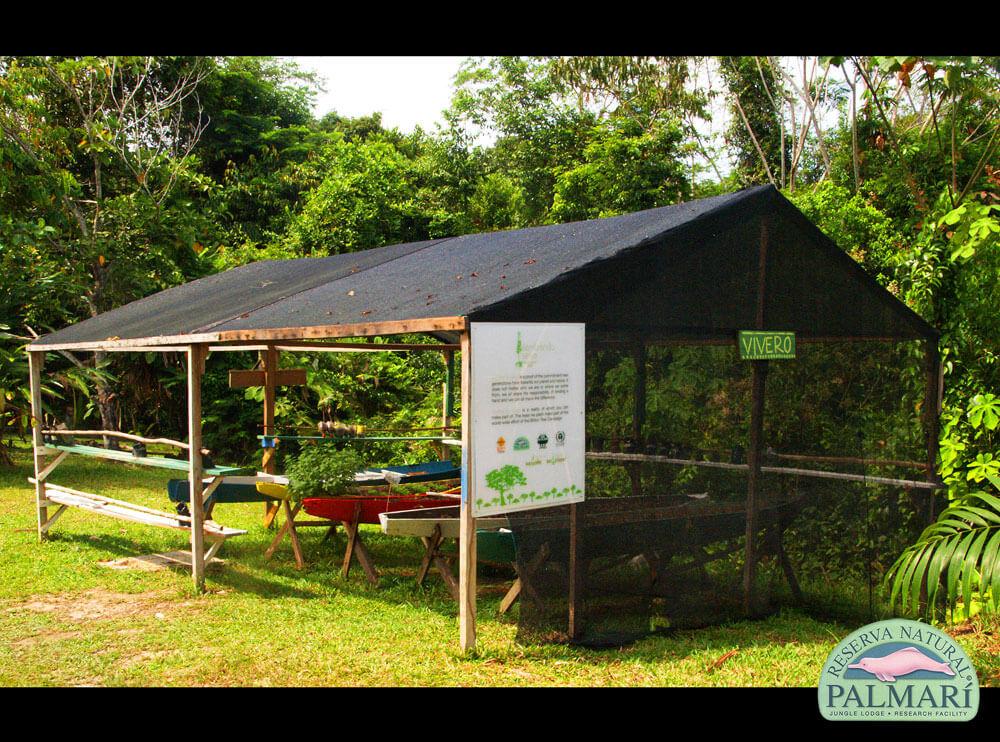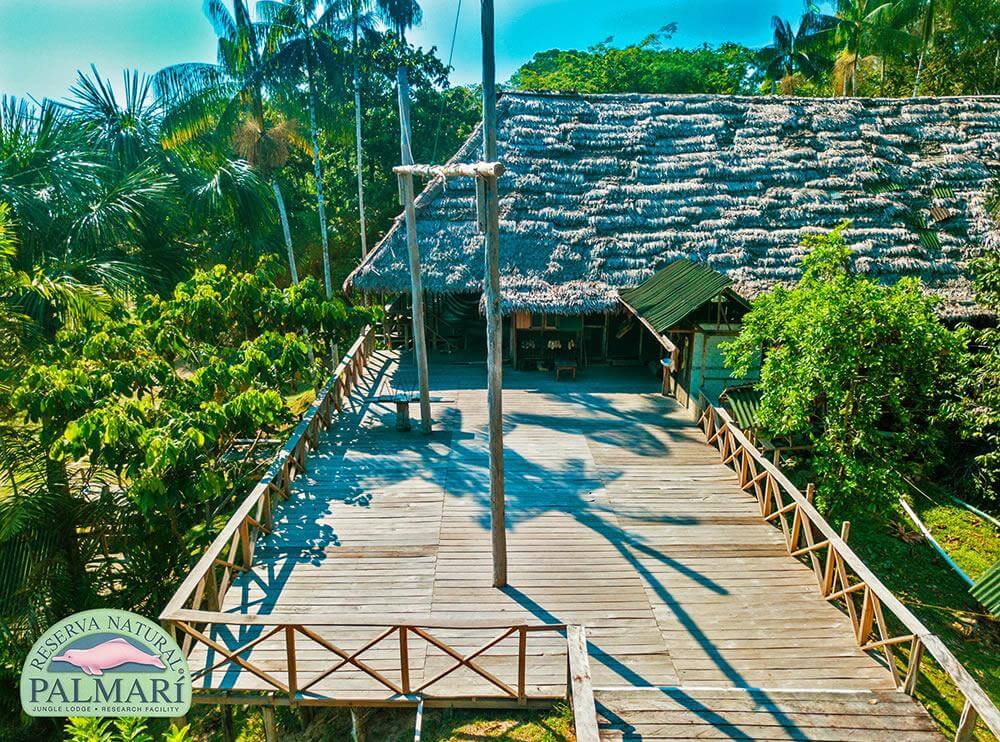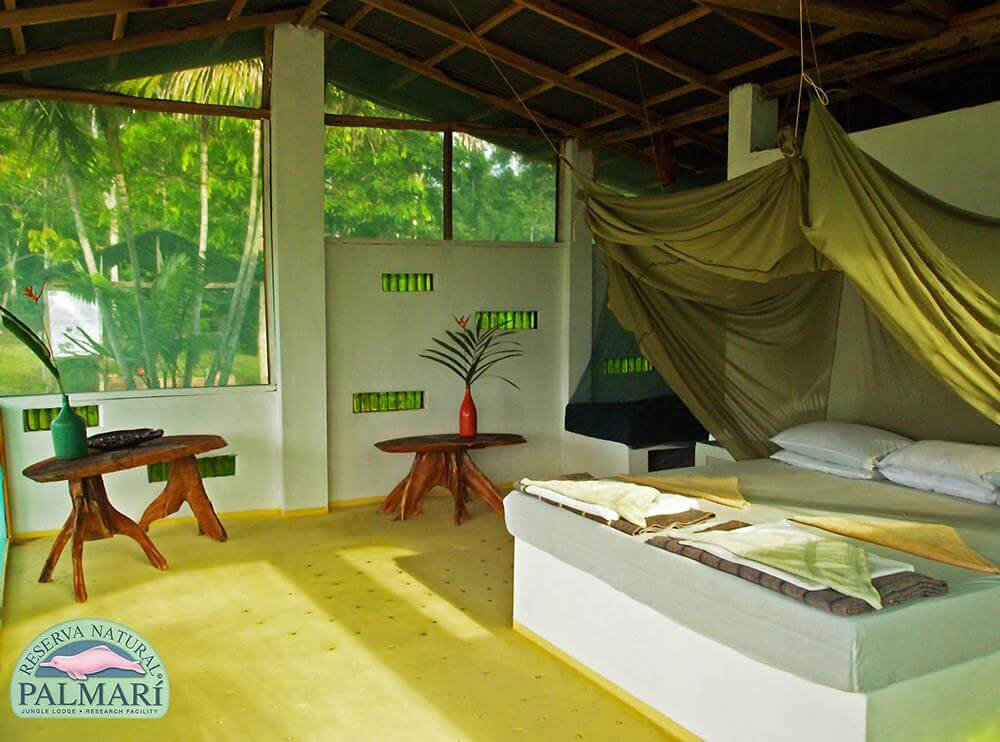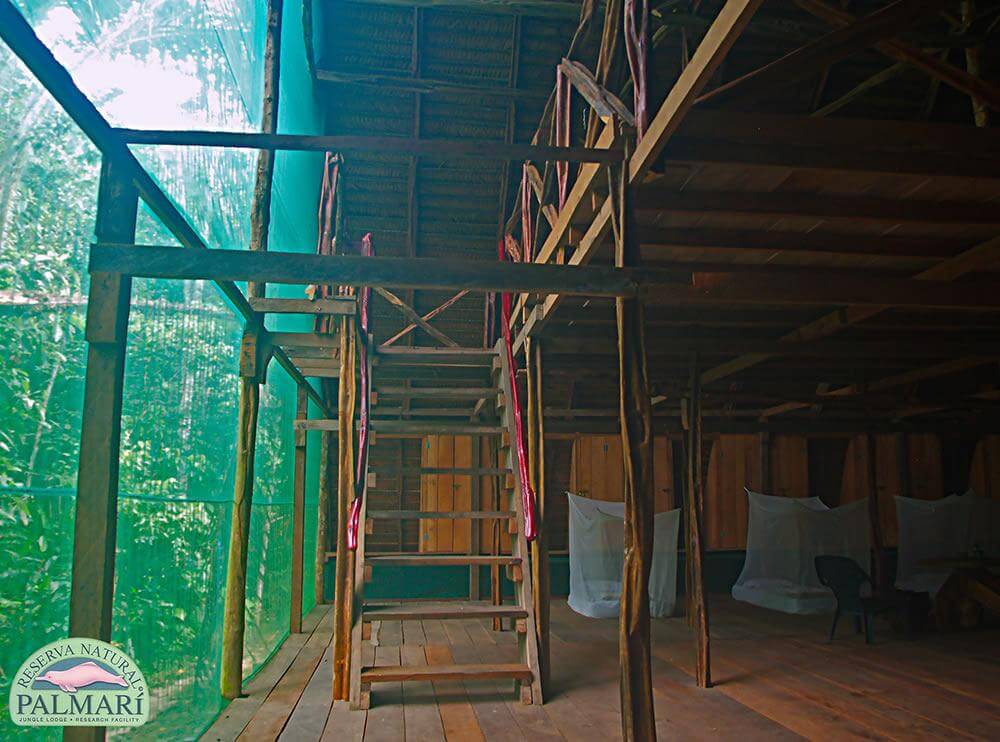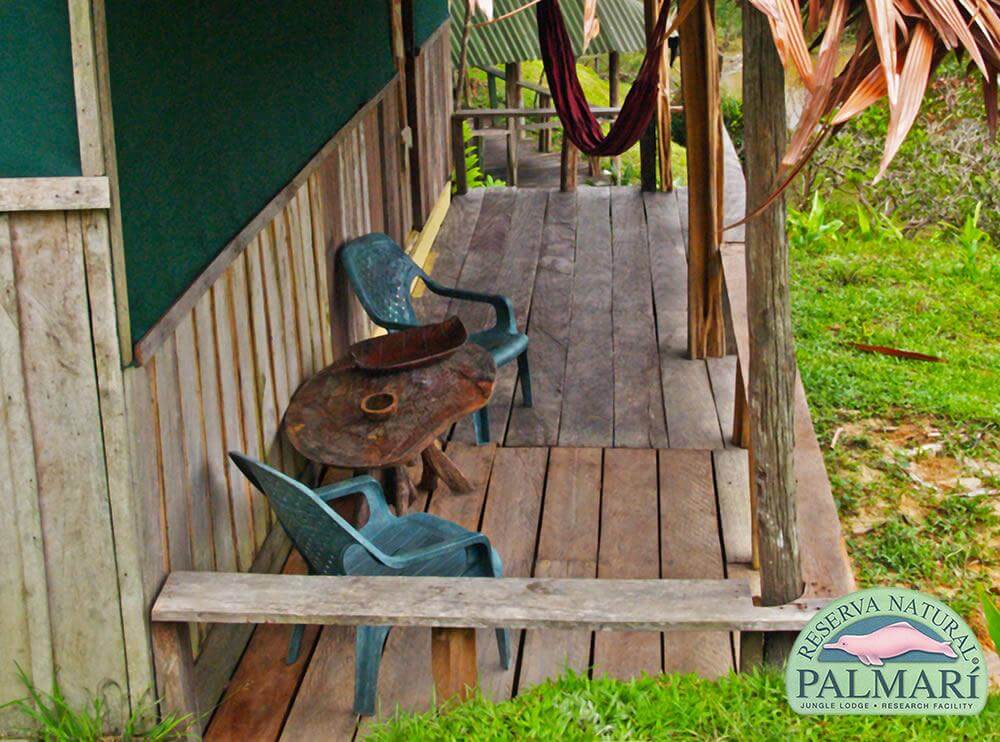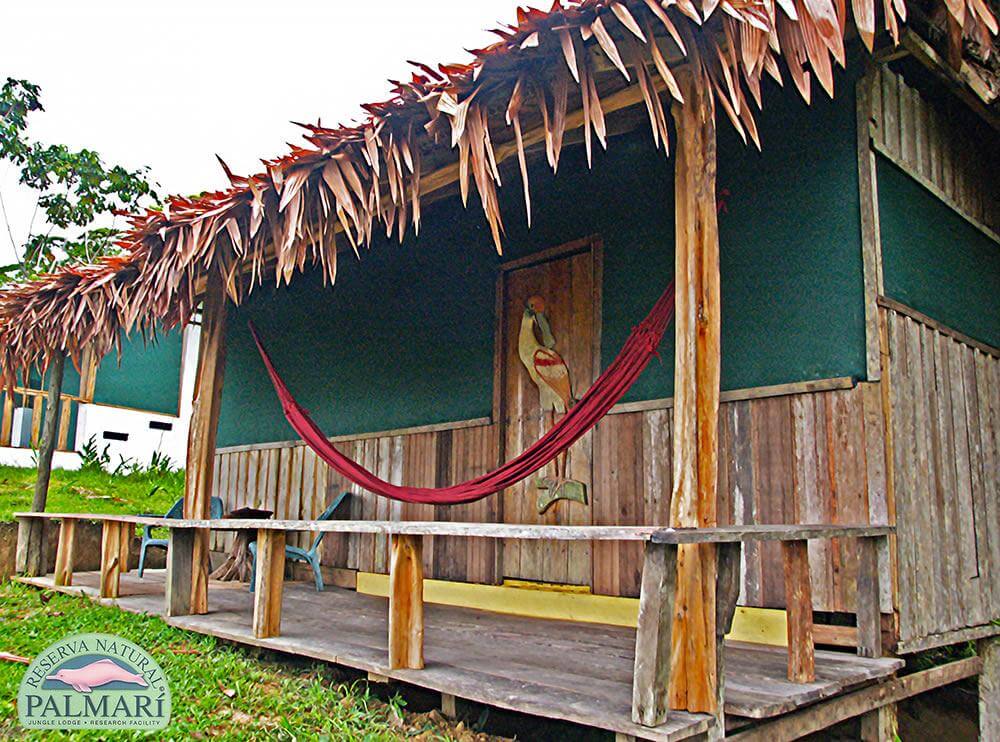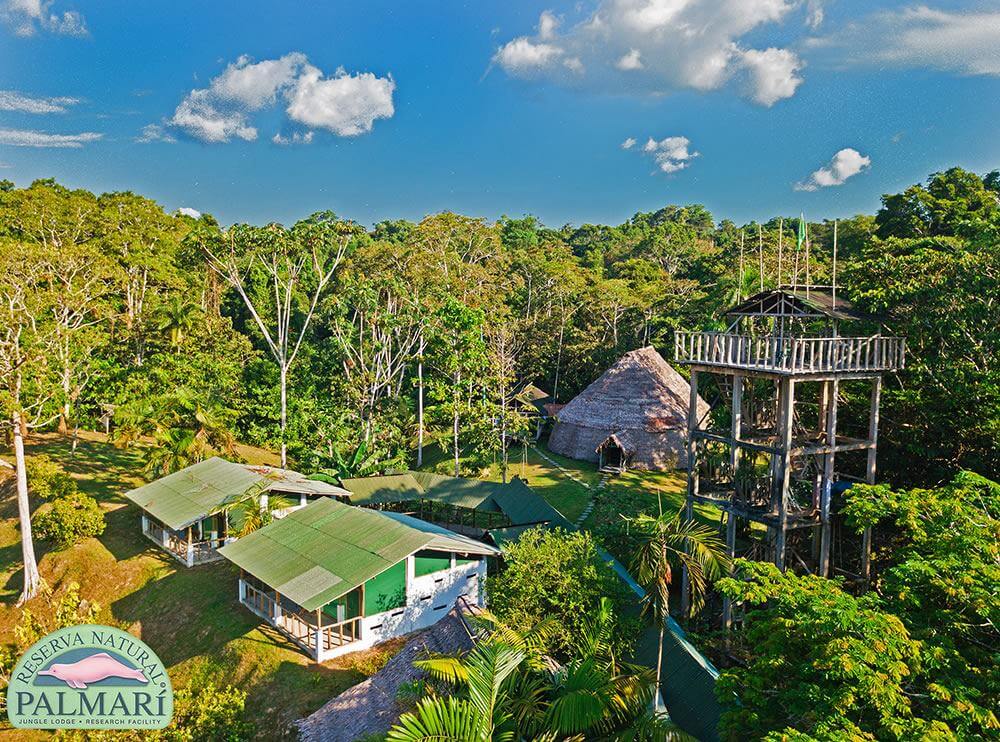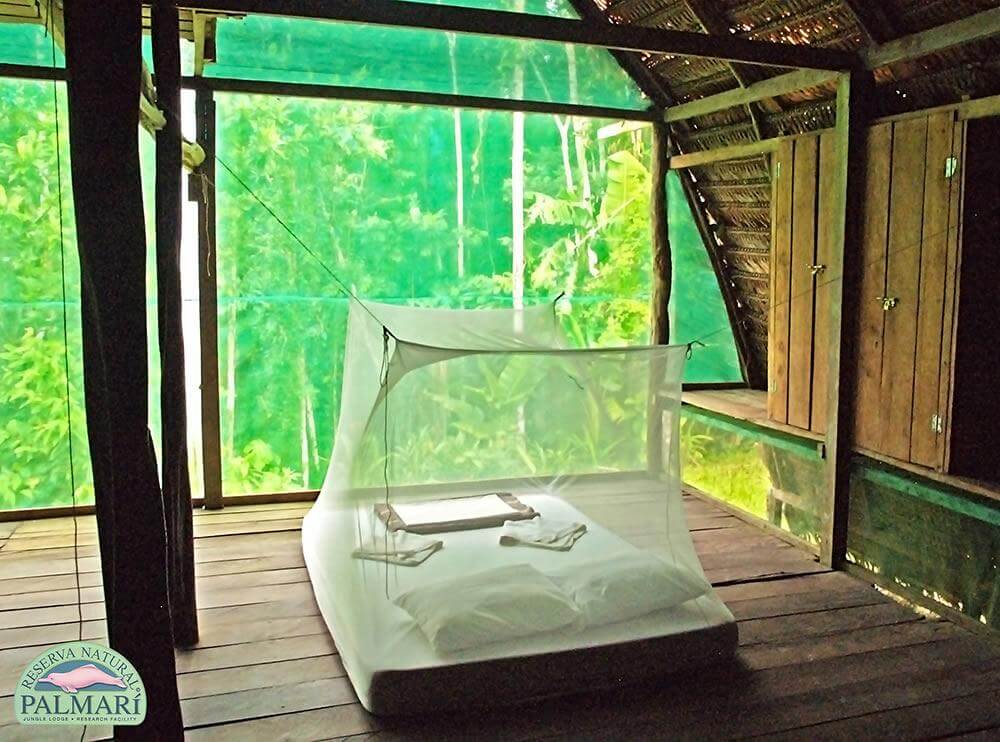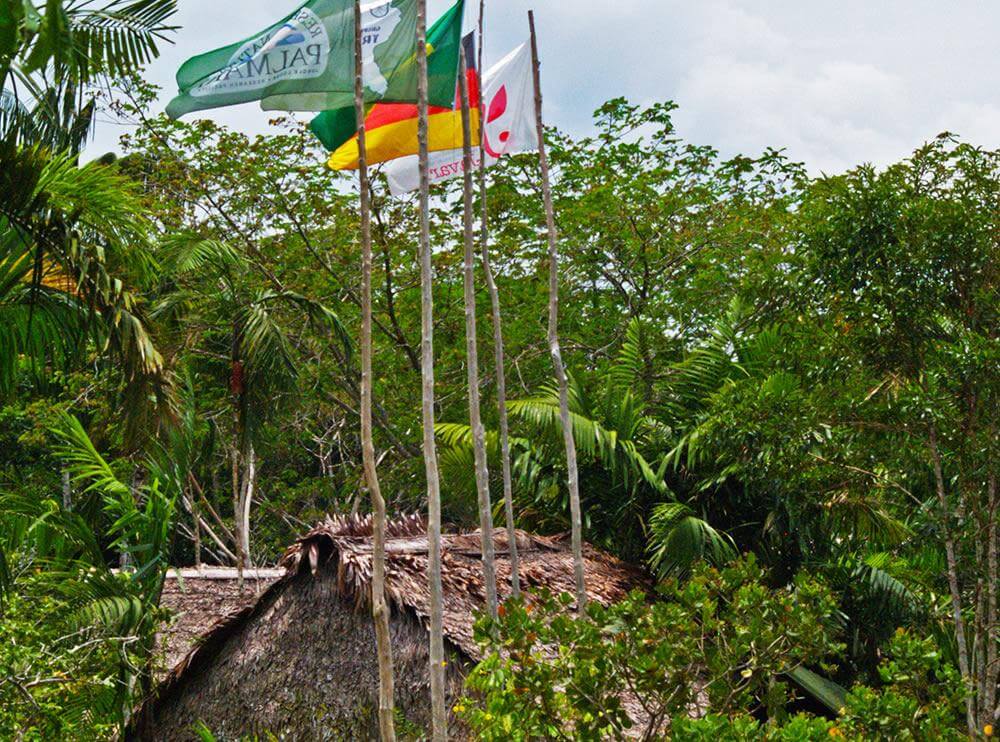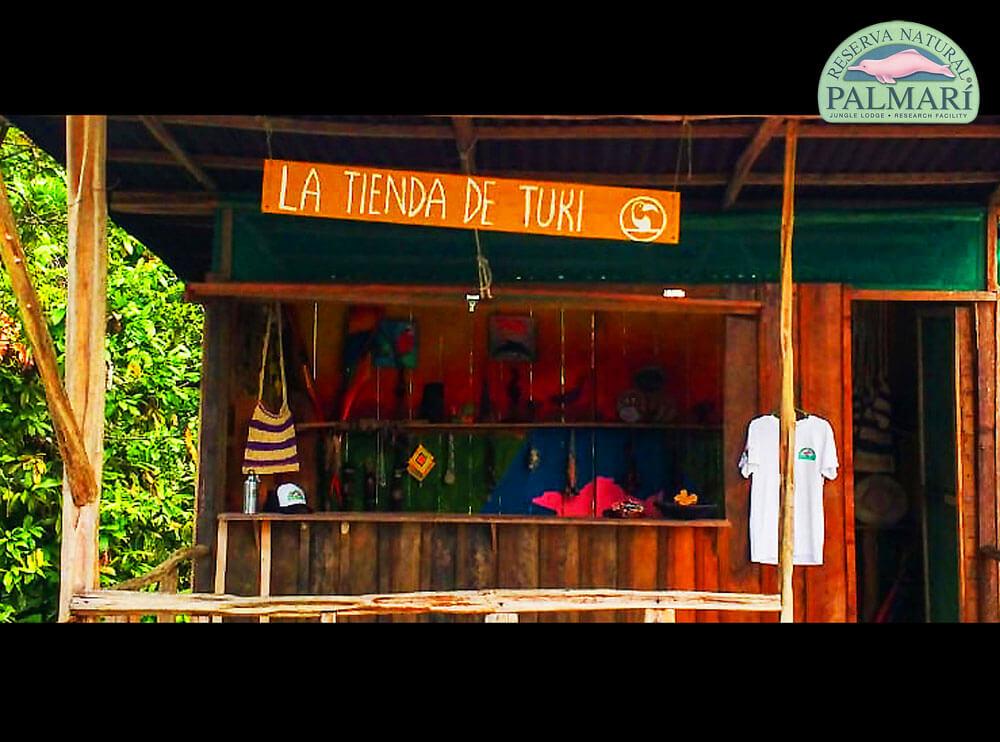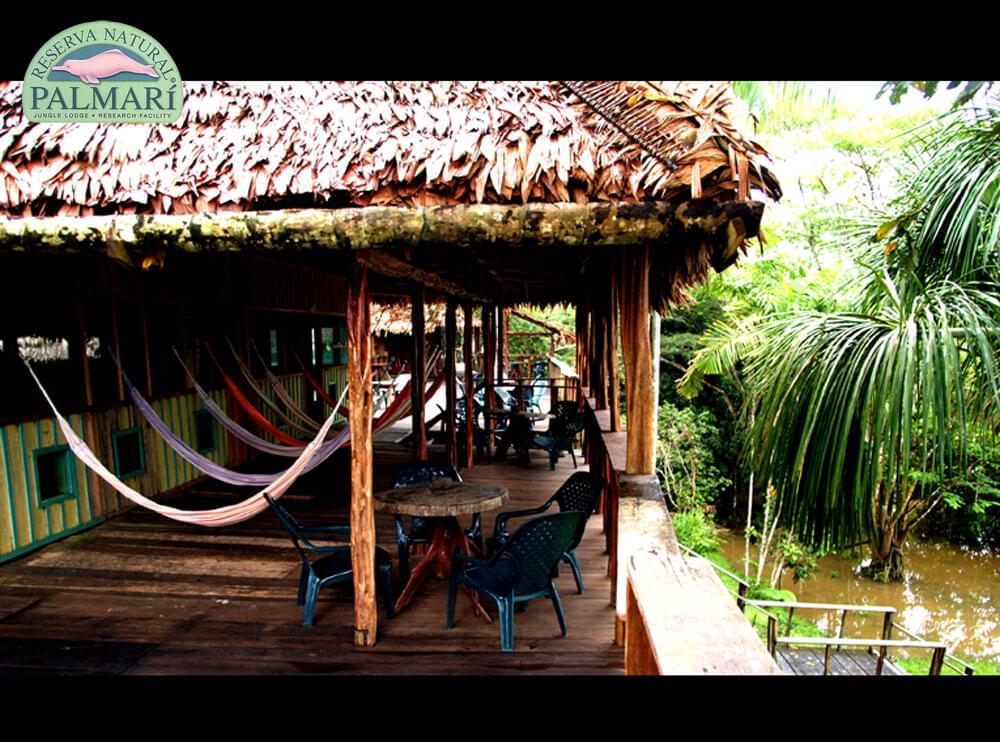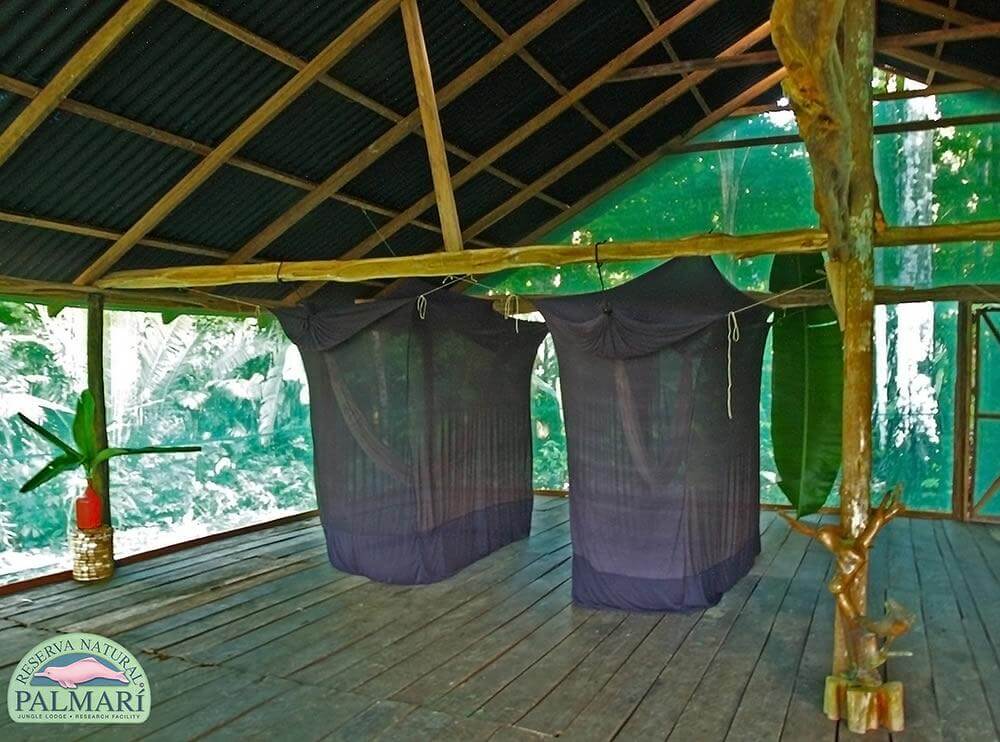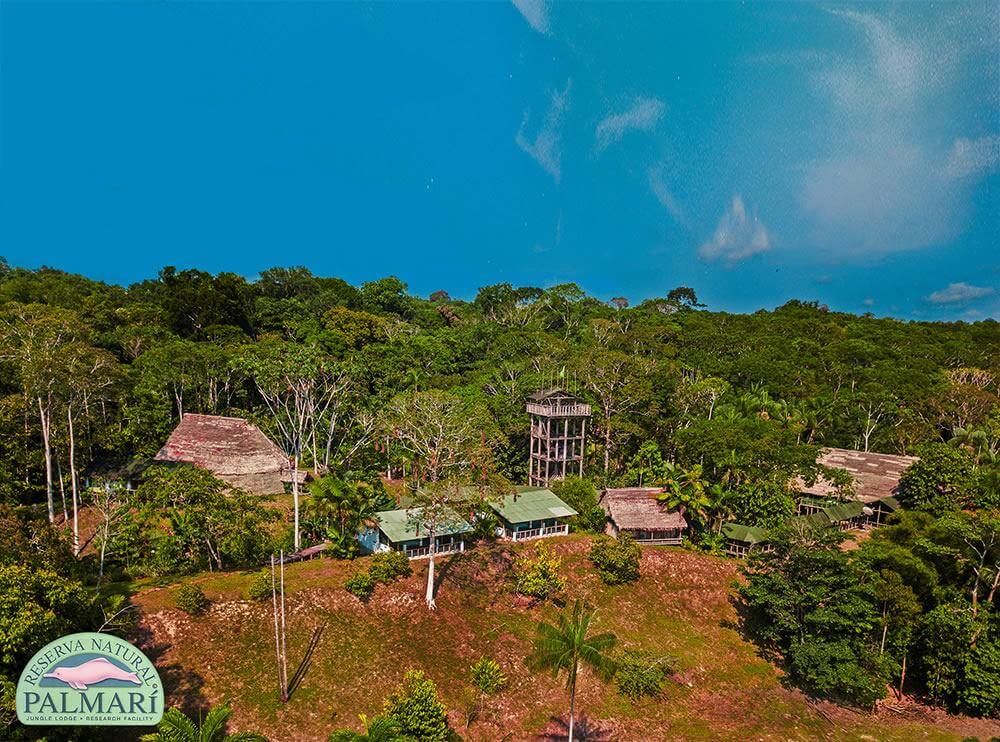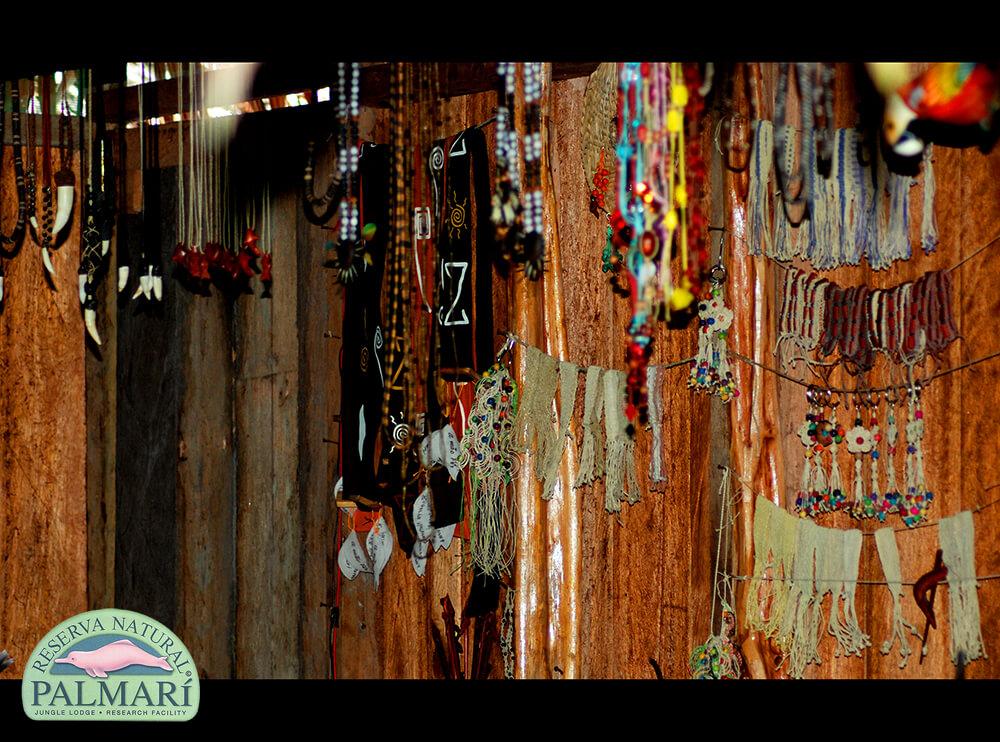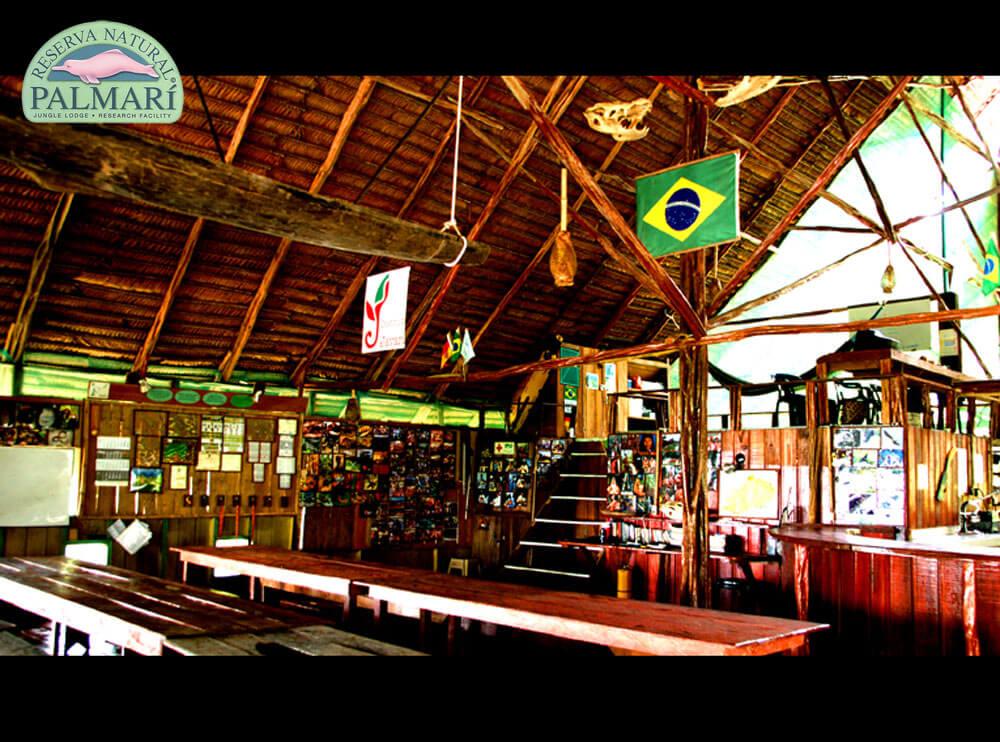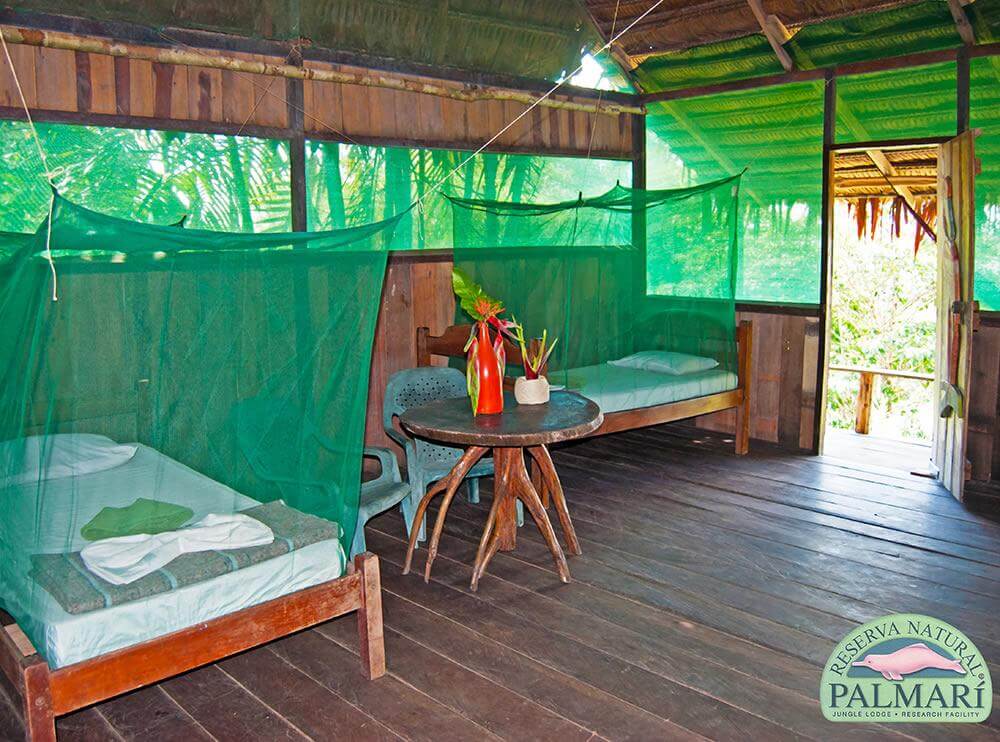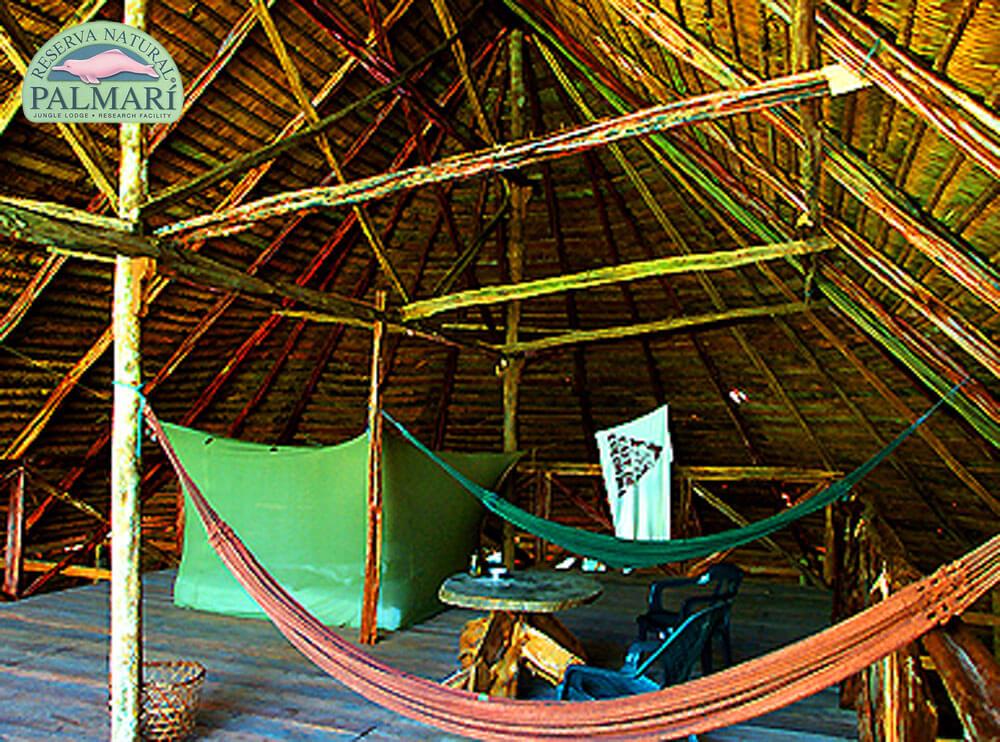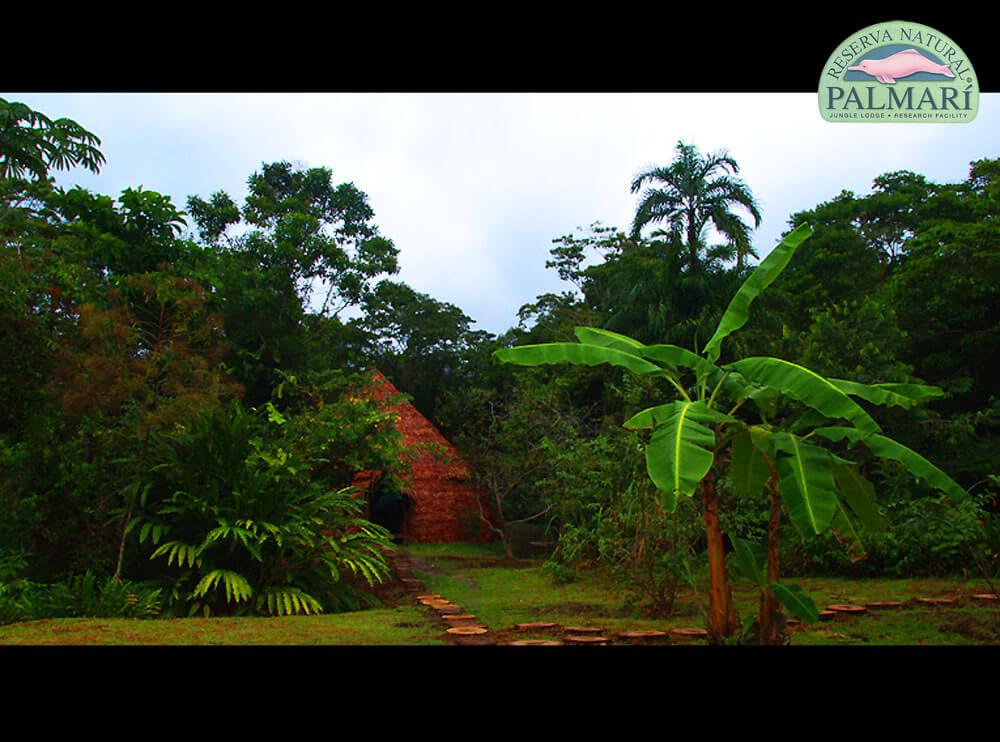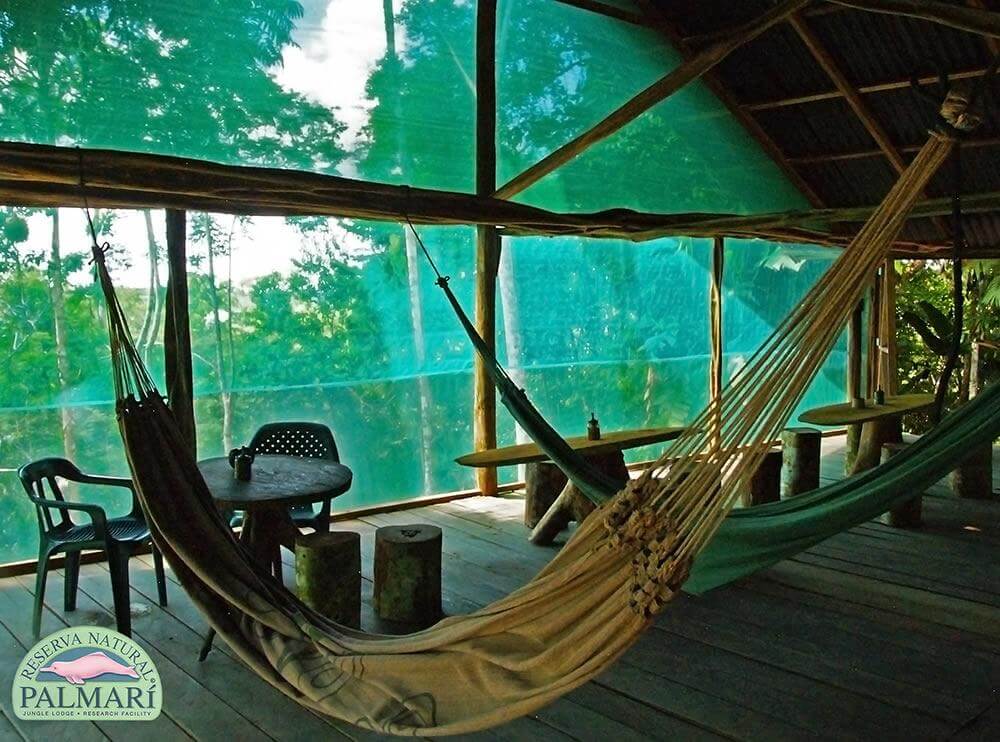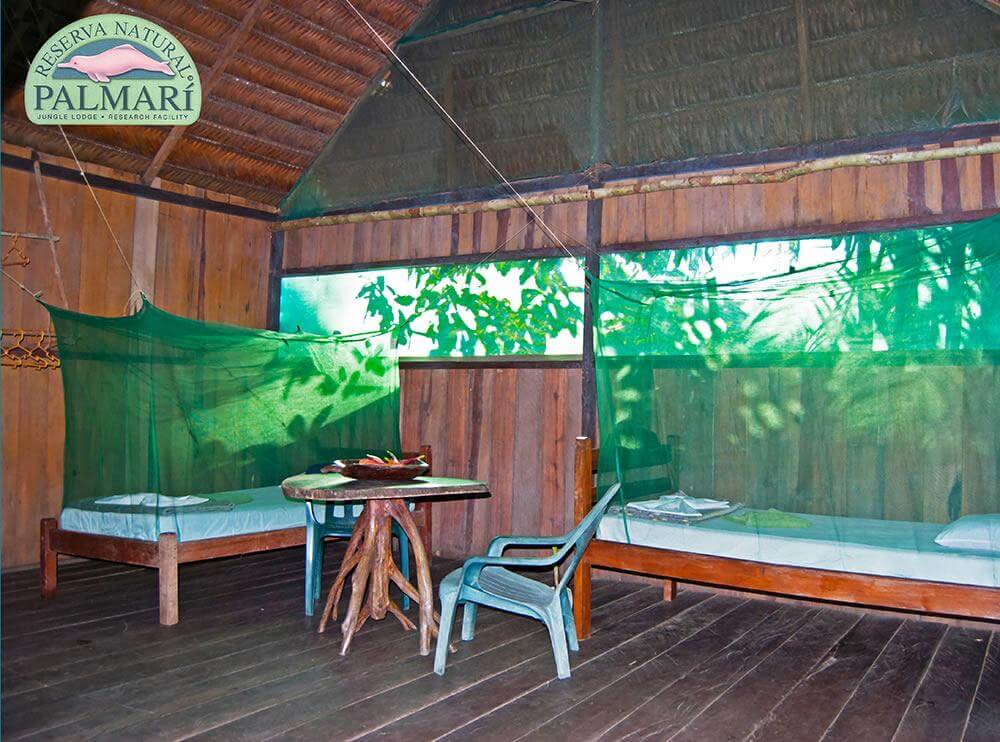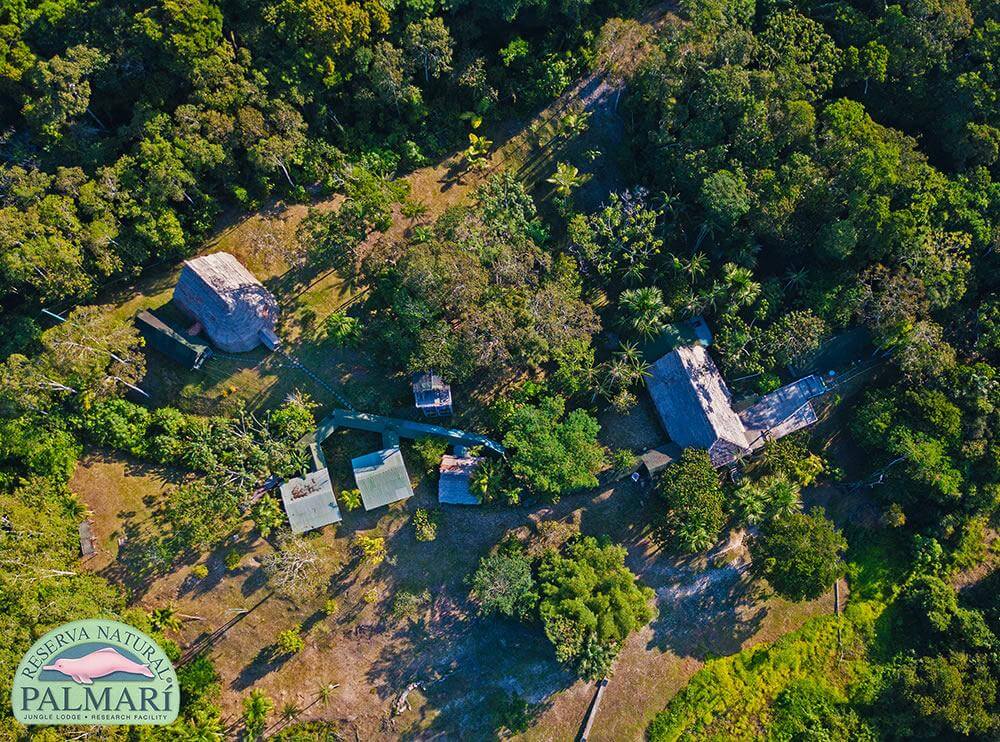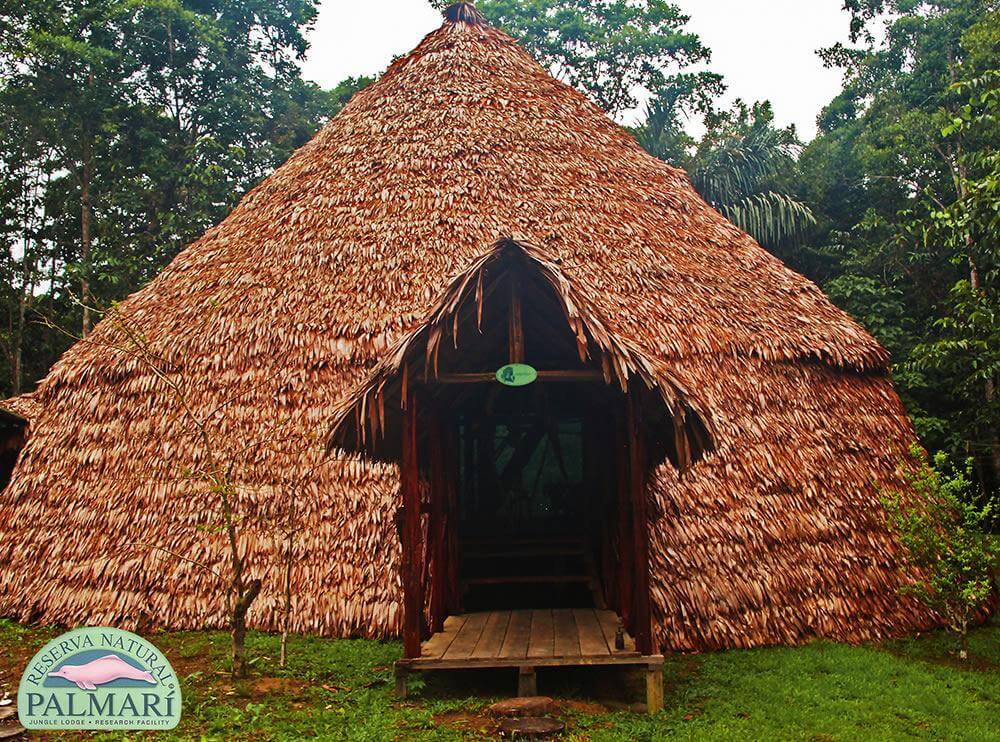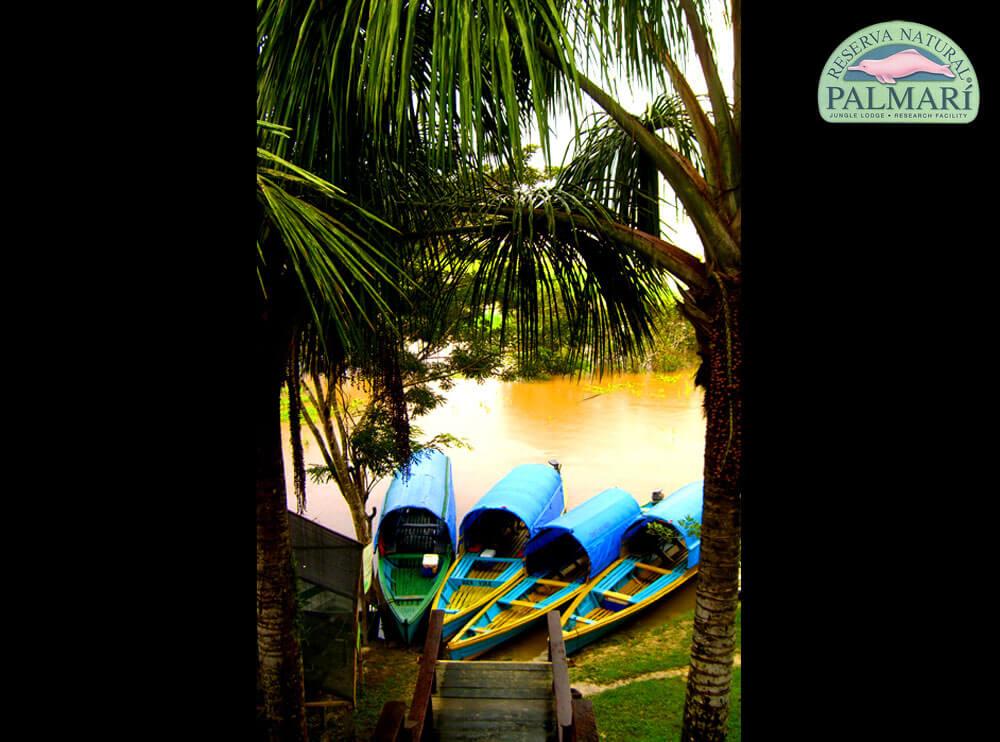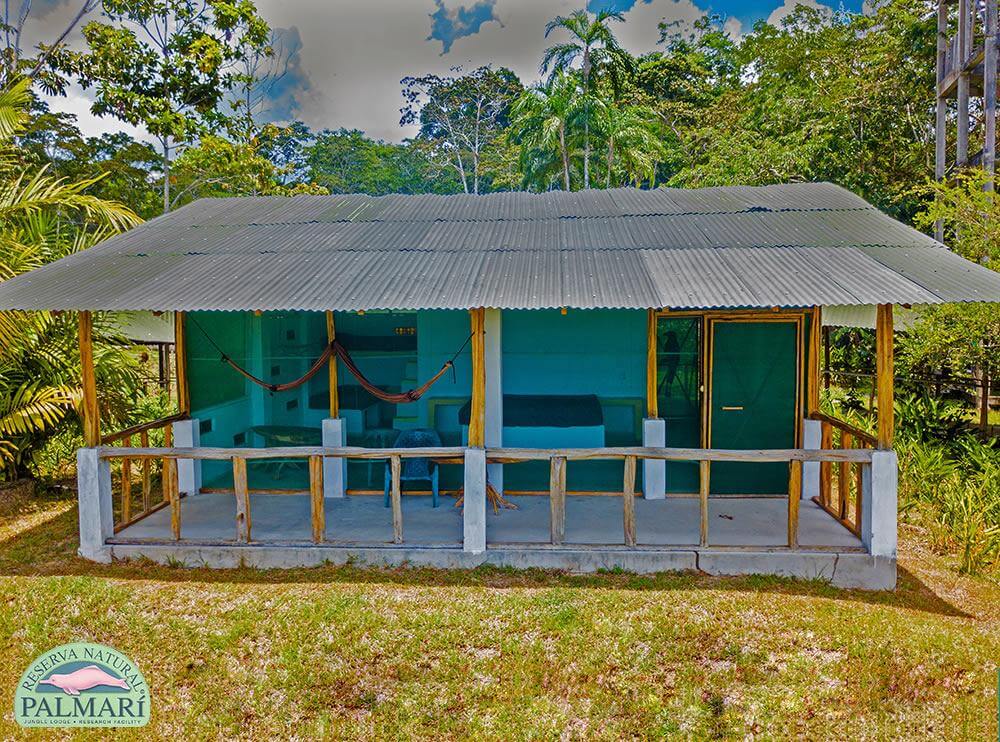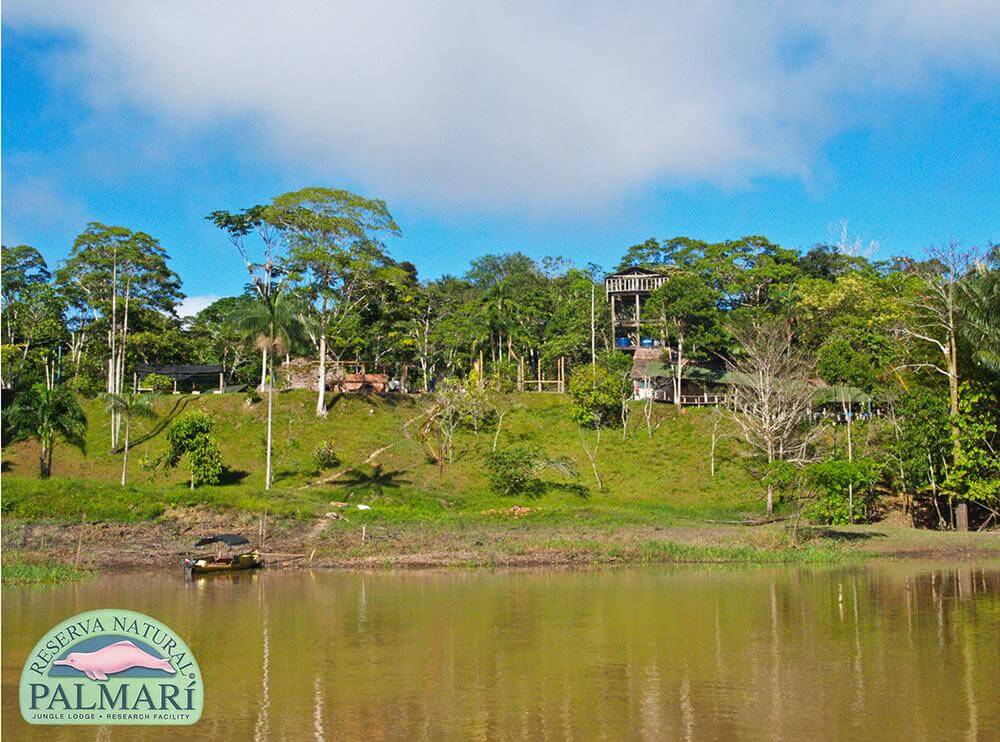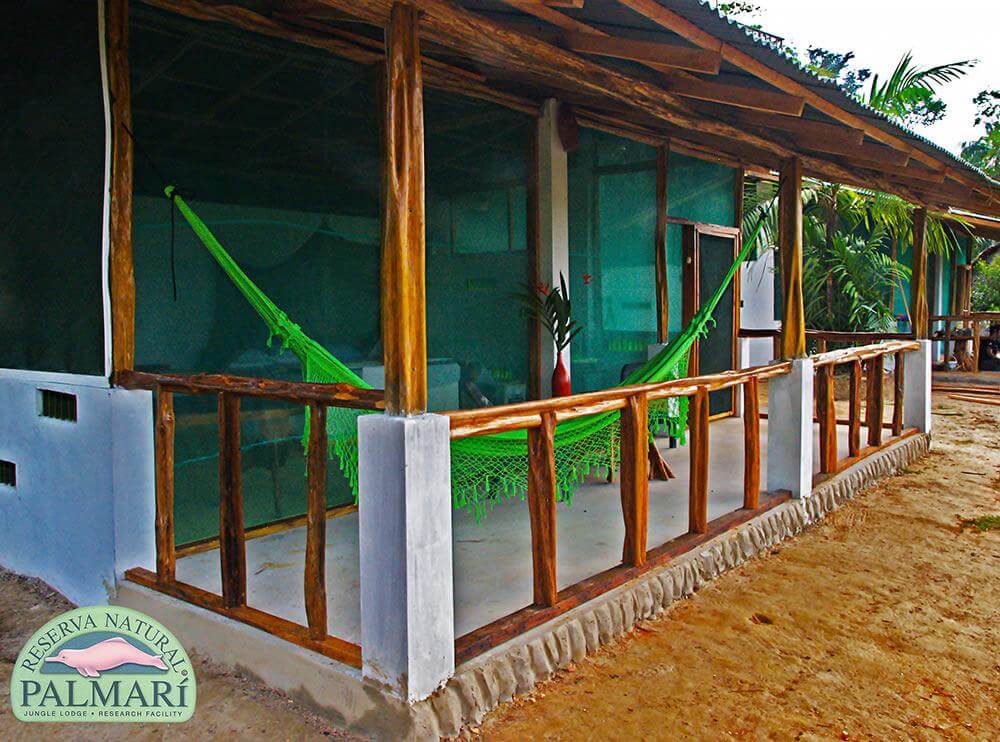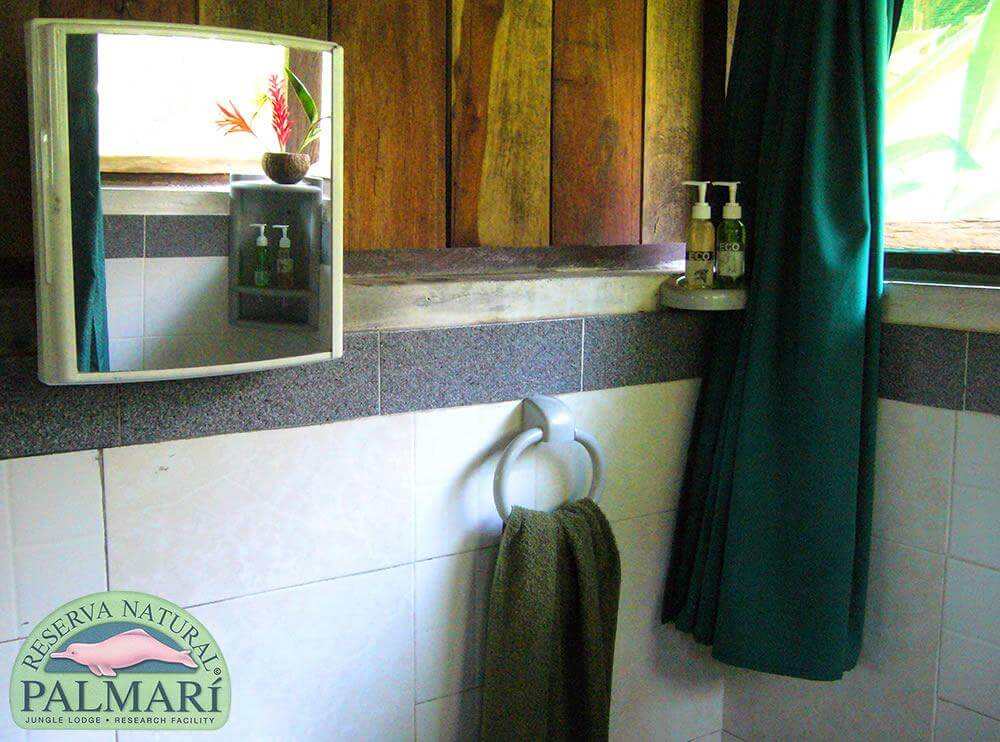 Our lodges, consisting of two types "medium quality lodge – C" and "high quality – lodge D", have each their own private bathroom and balcony. These lodges are generally equipped with one large double-bed plus 2 single beds but if the booking requires a different bedding lay-out we will equip them accordingly.
In our communal "Maloka - B" we can accommodate up to 24 mattresses, 18 on the first story and 6 on the second story, said maloka having its own, multiple shower and bathroom facility holding 4 showers, 4 toilets and 4 wash-basins, plus a small front balcony and a cloths drying area aft.
In our communal "Enramada - A" we can accommodate up to 12 large hammocks and it has its own, multiple shower and bathroom facility holding 3 showers, 3 toilets and 3 wash-basins, plus a cloths drying area aft.
All lodges, maloka and enramada are fully enclosed, further we offer mosquito-nets for each and every bed, mattress and hammock, aside of the complete set of bedding/hammock sheets, linen, blankets and pillows.
Electricity, 1 ceiling fan plus 1 vertical, rotating floor-fan, sockets and both white (bathroom) and yellow light are offered in our "D" type lodges, while our "C" type lodges do not offer electricity whilst lighting is granted by petrol lamps.
As we provide our guests with amenities like towels, eco-soap, eco-shampoo and eco-insect-repellent for free, we ask them NOT to bring any of these products, but use only ours.
The whole visitors centre has wooden walk-ways elevated above the ground in order to avoid our guests having to walk on muddy, slippery and un-even terrain, all covered with canadian eco-tiles avoiding our clients from getting wet; this excludes the maloka and enramada.
Our visitors centre offers the largest and highest watch-tower in the region, its main frame and staircase built very sturdy in concrete; the viewing platform on-top is partially covered by a ceiling and partially open to the sky allowing to place up to 4 hammocks under the ceiling, as well as holding tables and chairs in the open; the view over the "Javari" river and all three forest ecosystems is breathtaking, including the possibility to see both the sunrise and the sunset due to a full 360° panoramic view.
Our visitor centre is connected to the state´s power-grid, in case of its failure we own a medium-sized power plant, hence allowing to charge batteries and electrical appliances, further providing moth-and-insect-free light in the areas of the restaurant, social area and kitchen, as well as enabling us to provide our own "IP" satellite signal offering the possibility to connect to the "Internet" in our "Wi-Fi" zone free of charge.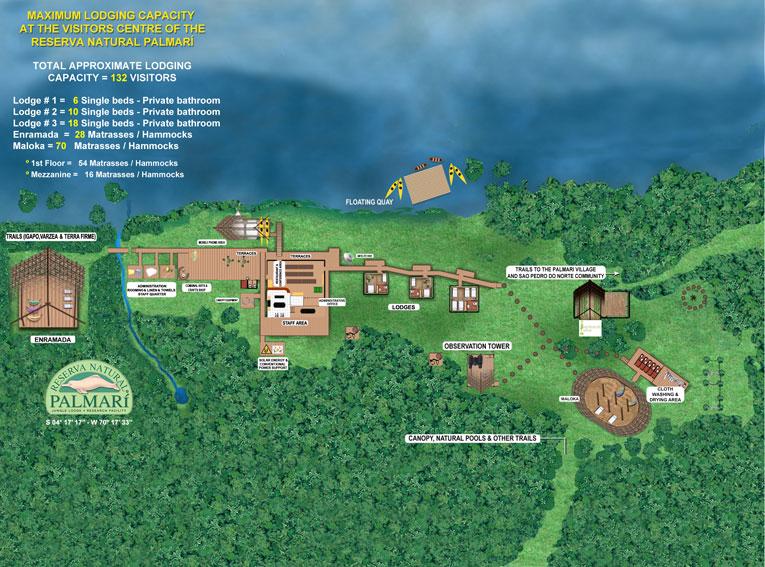 MENU & BEVERAGES & SNACKS & SPECIAL CATERING REQUESTS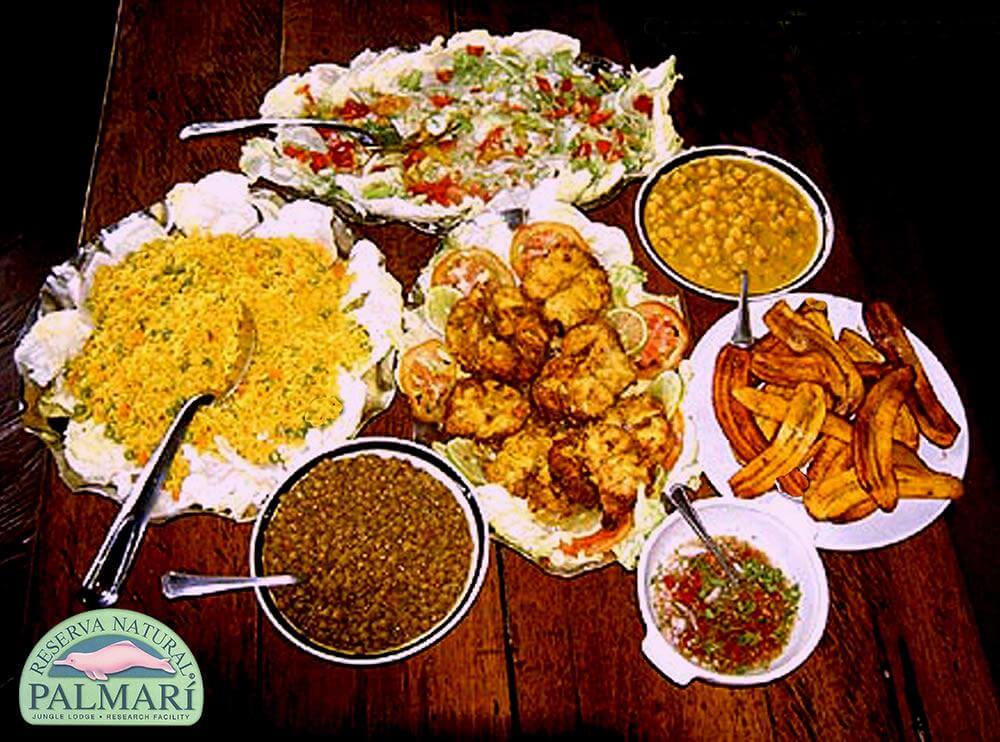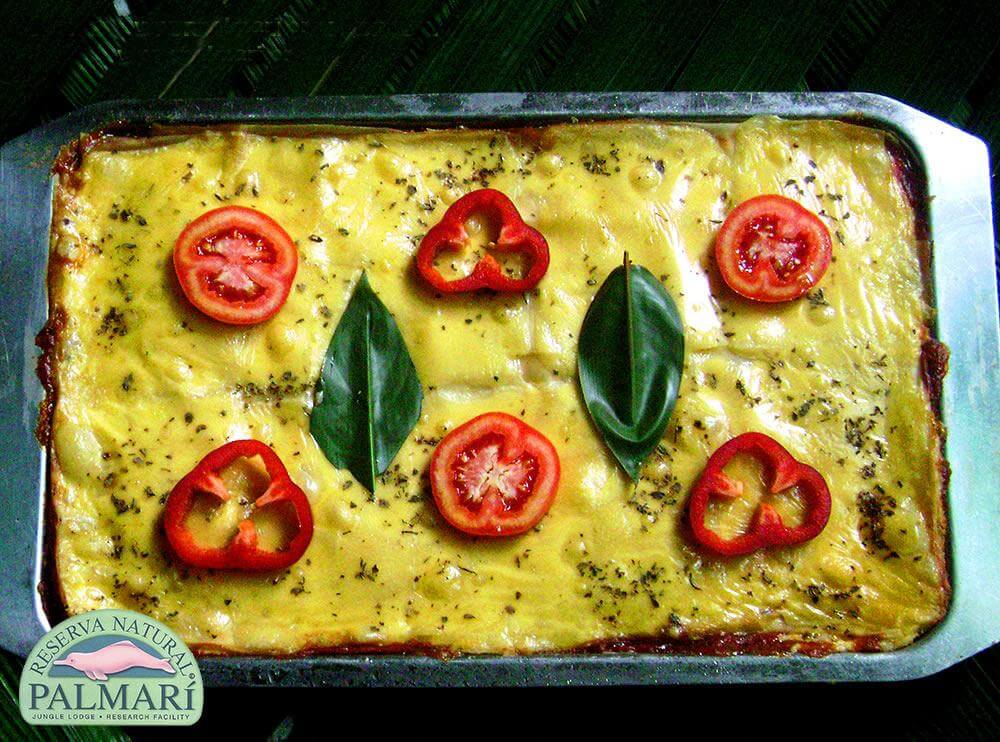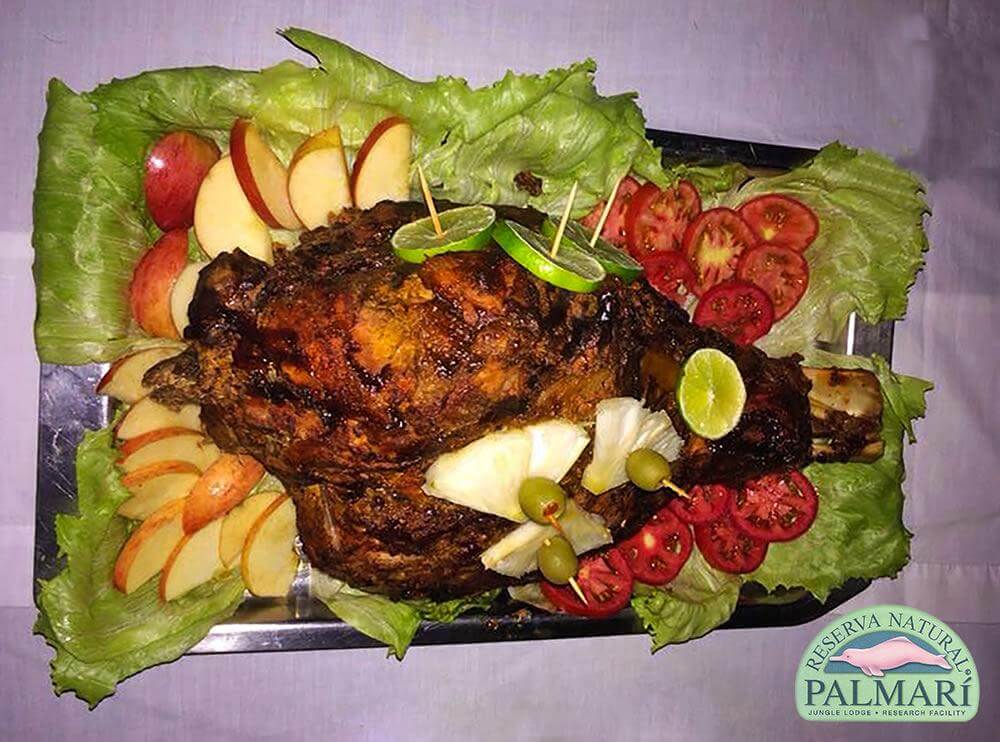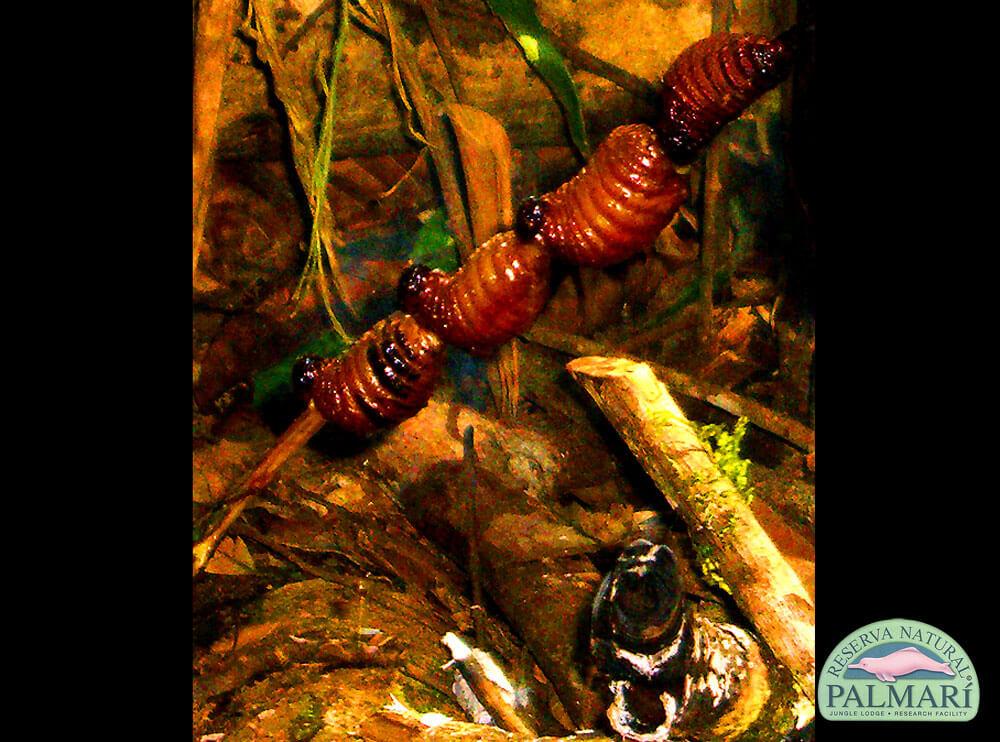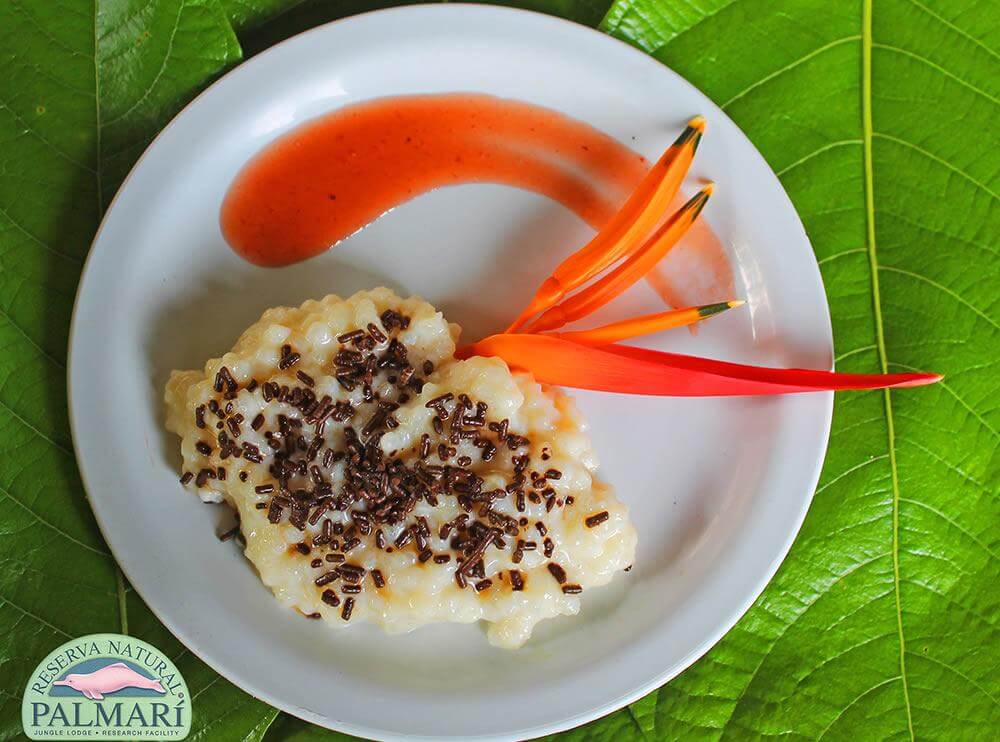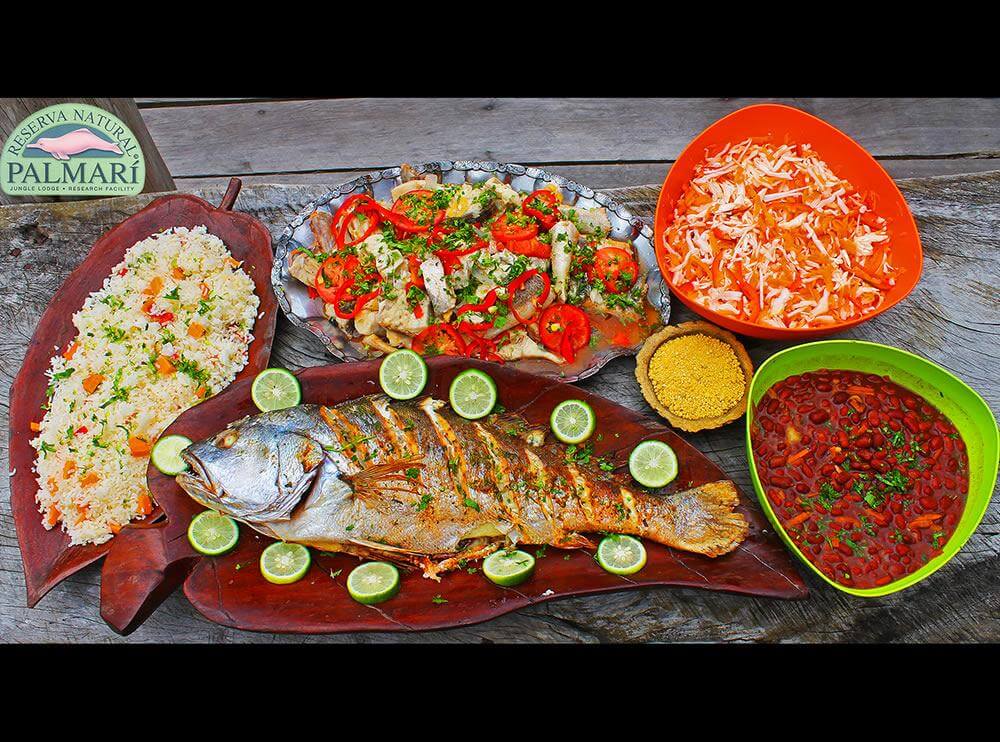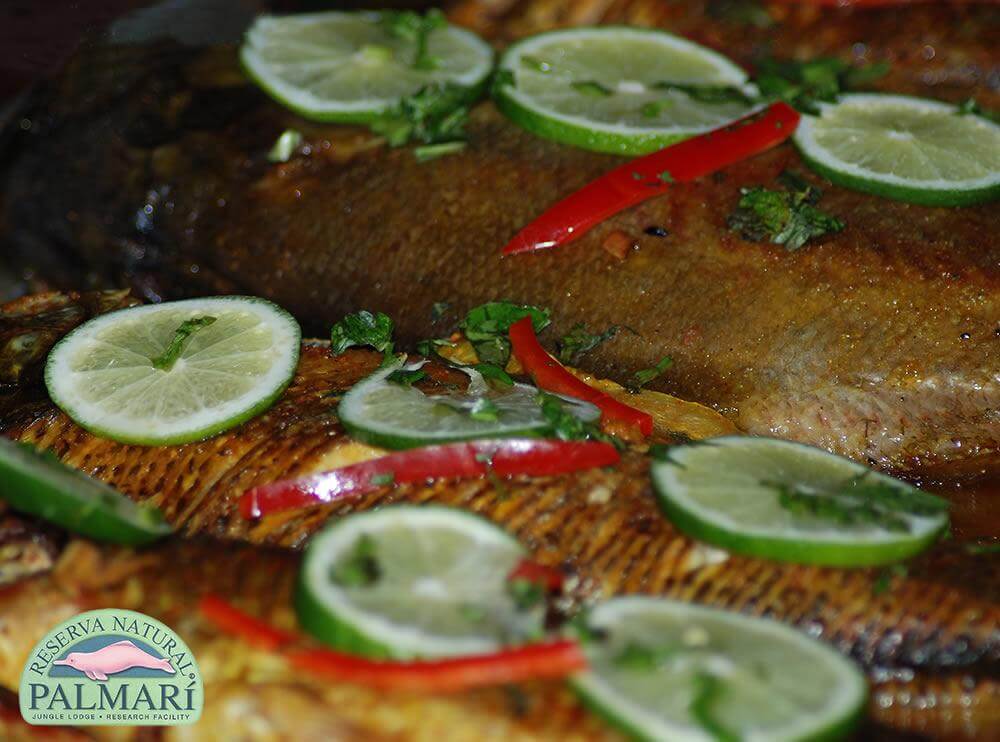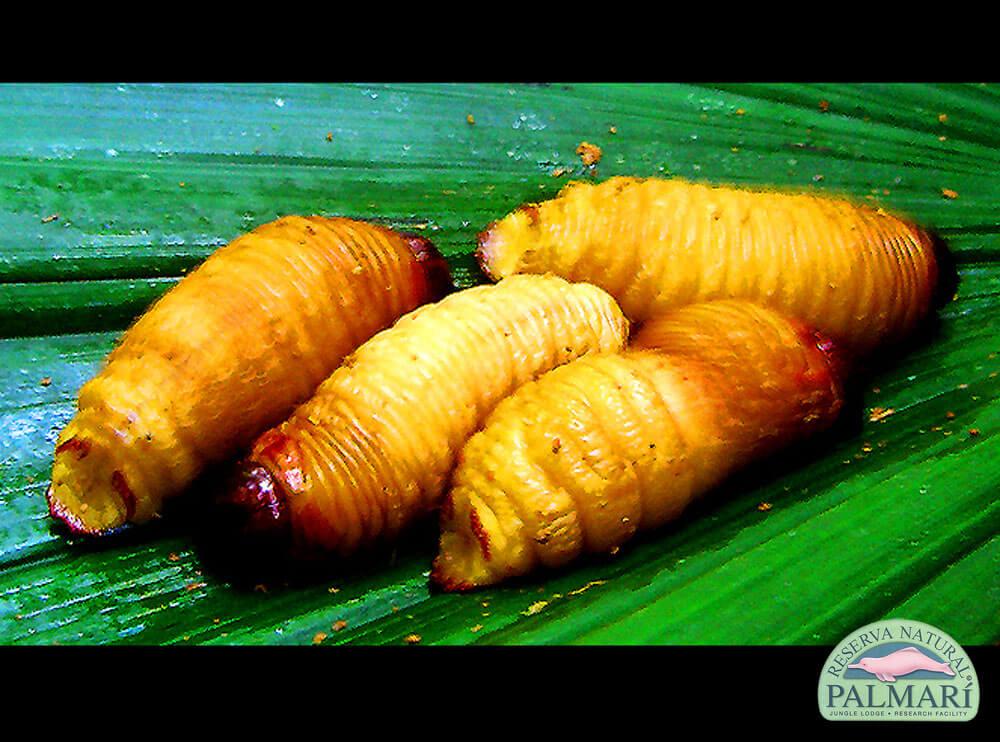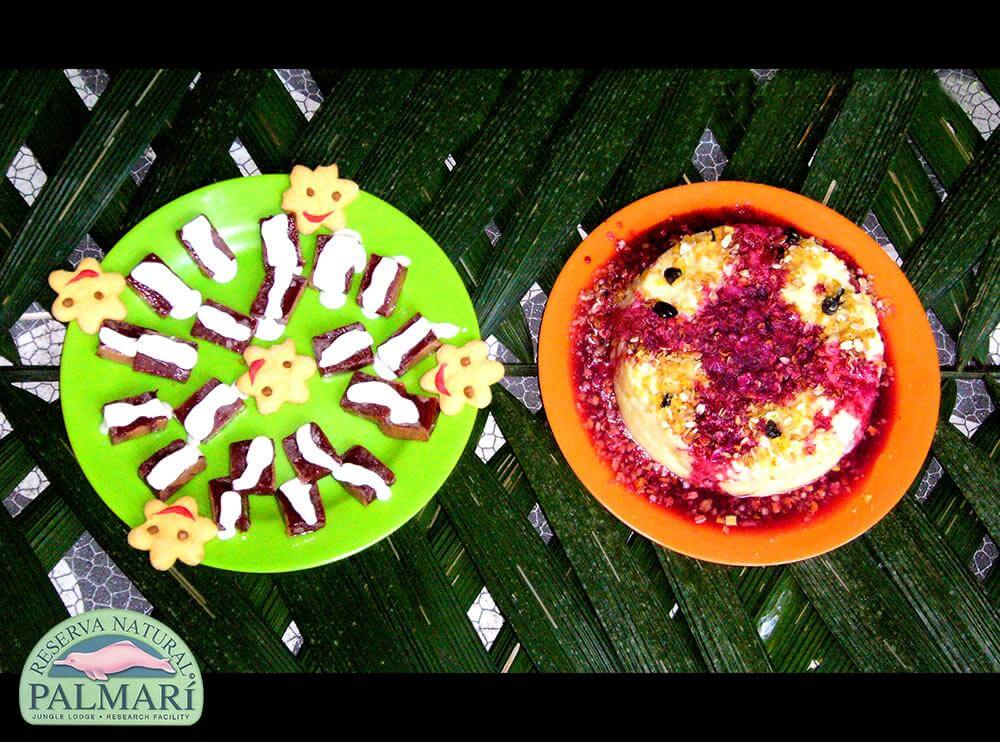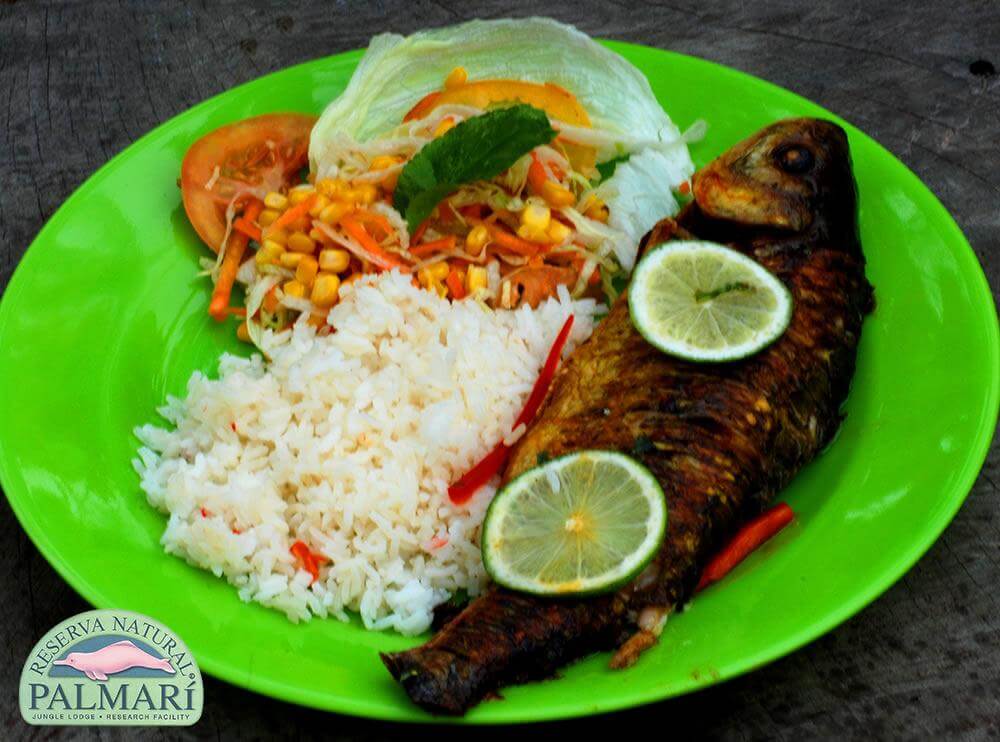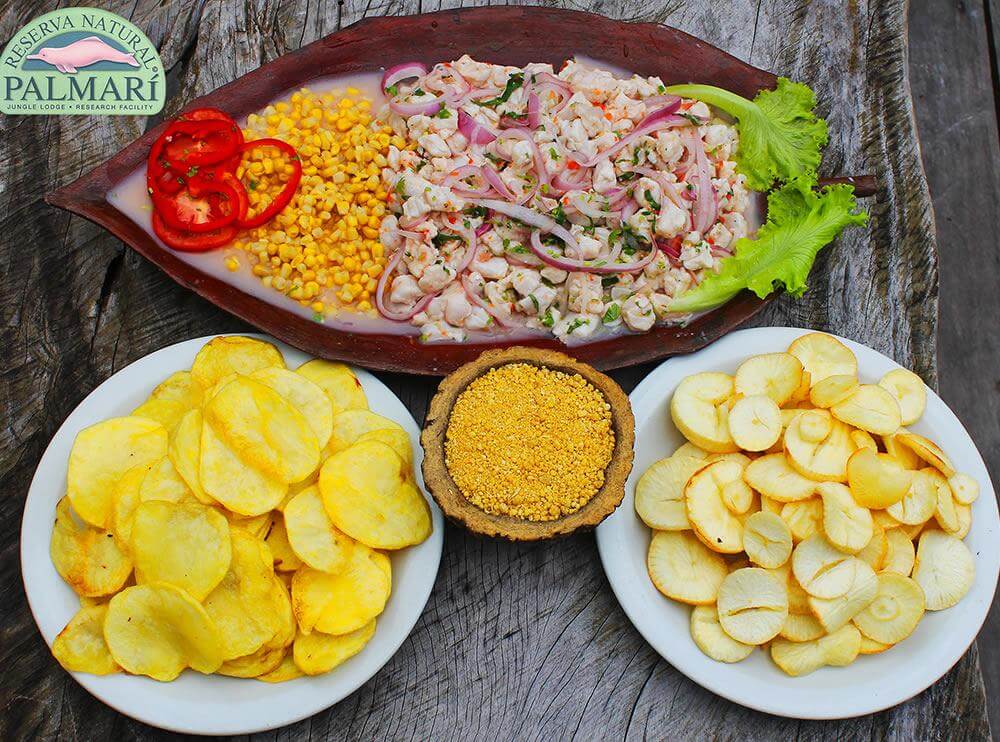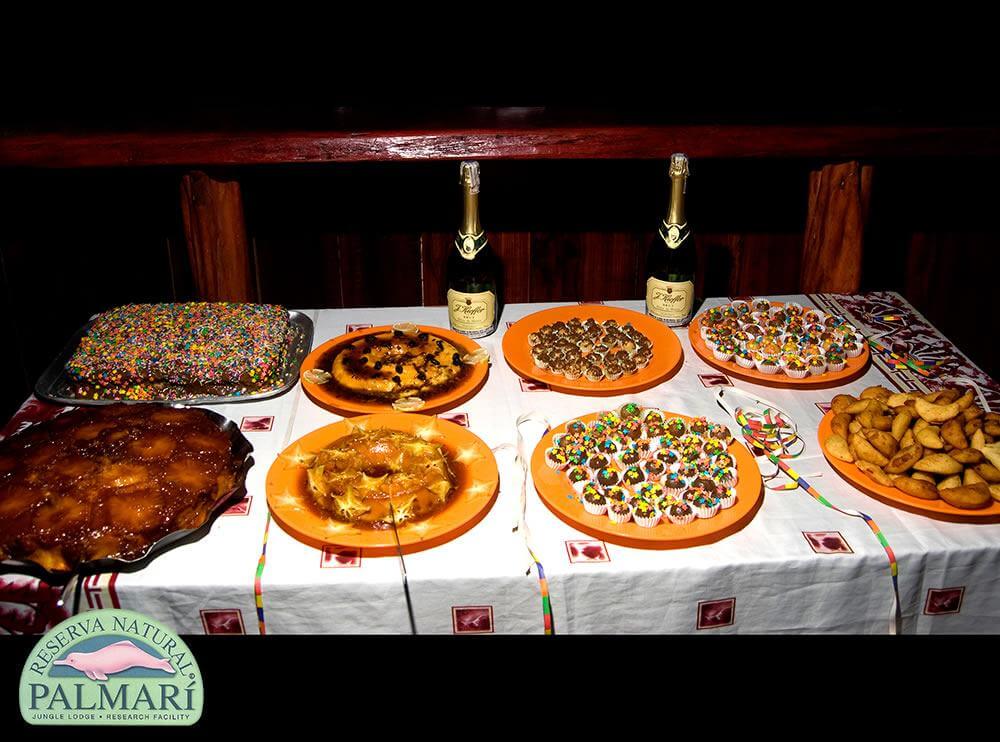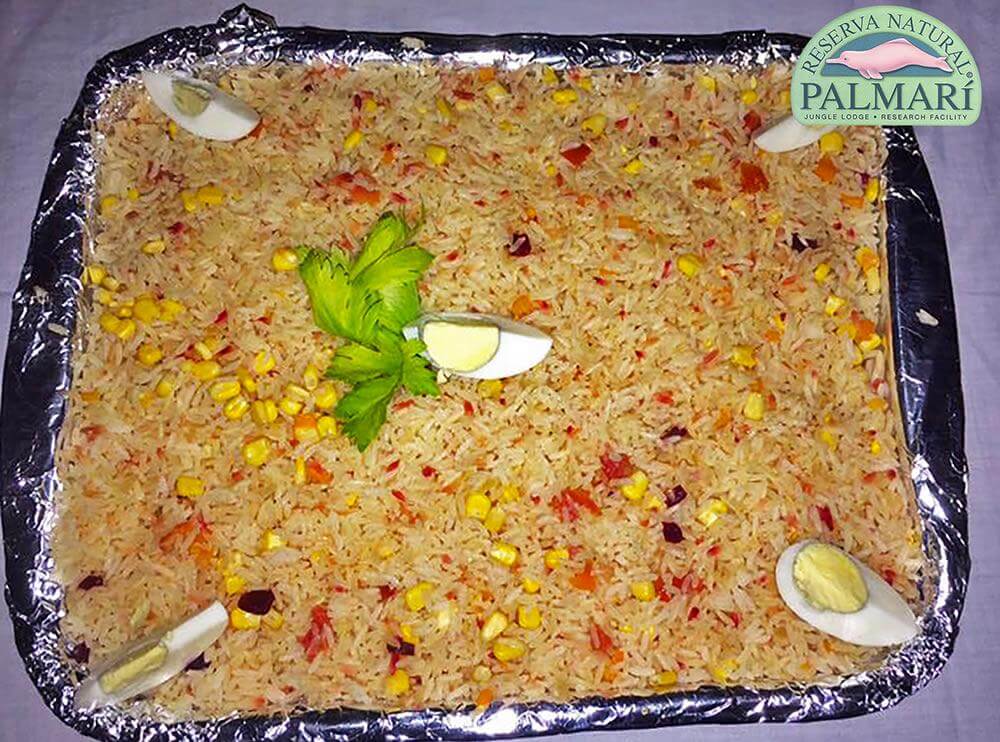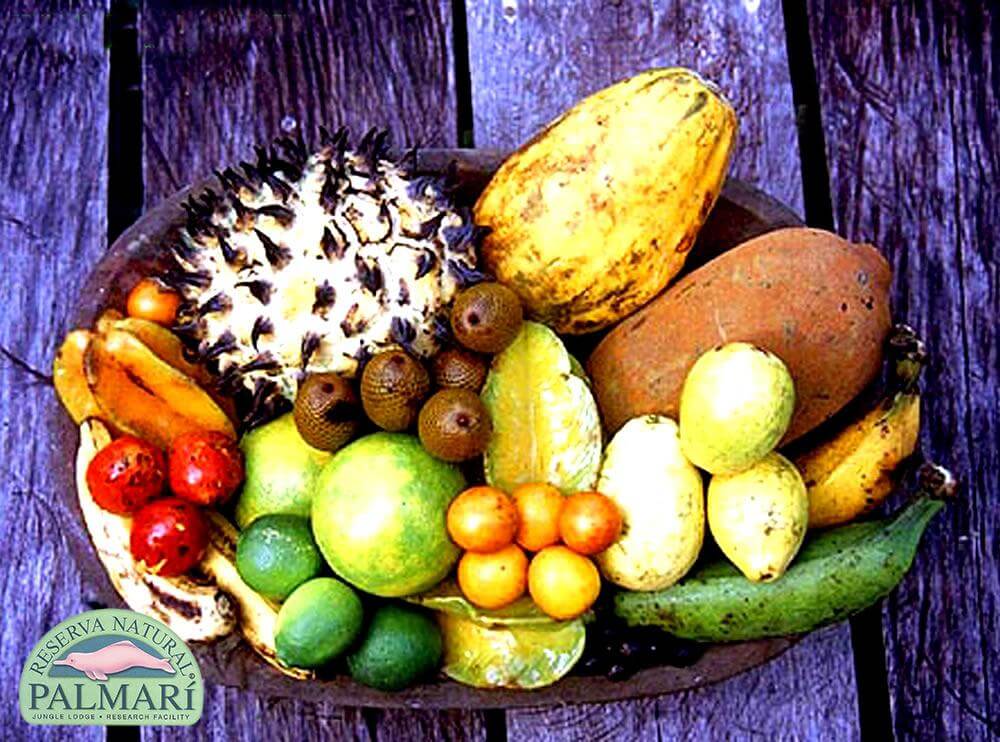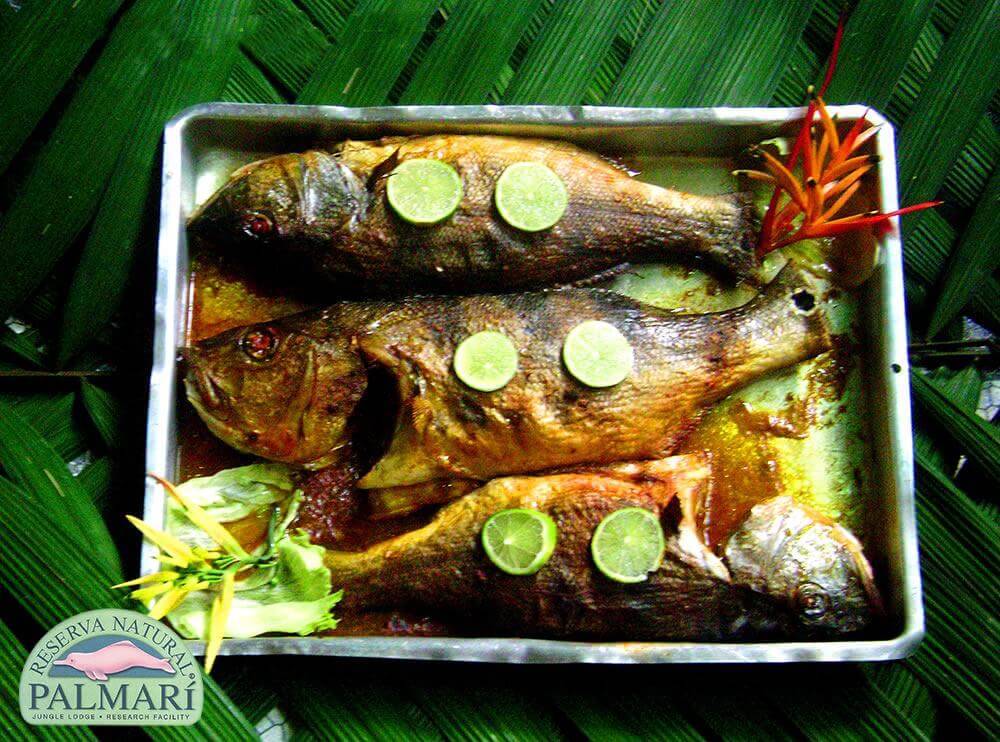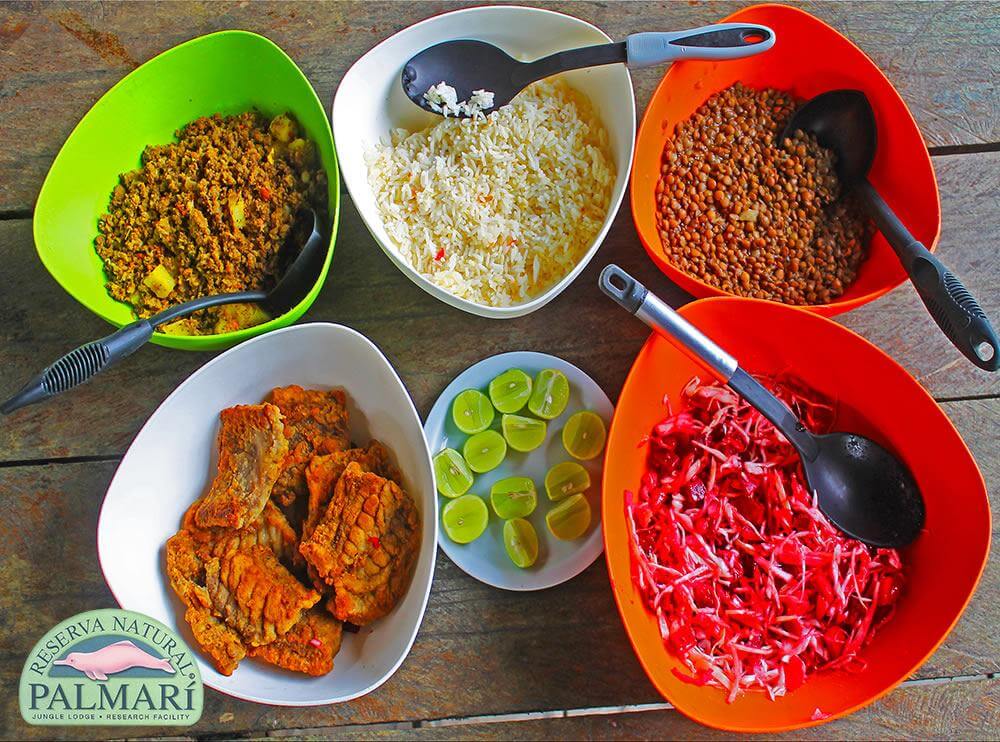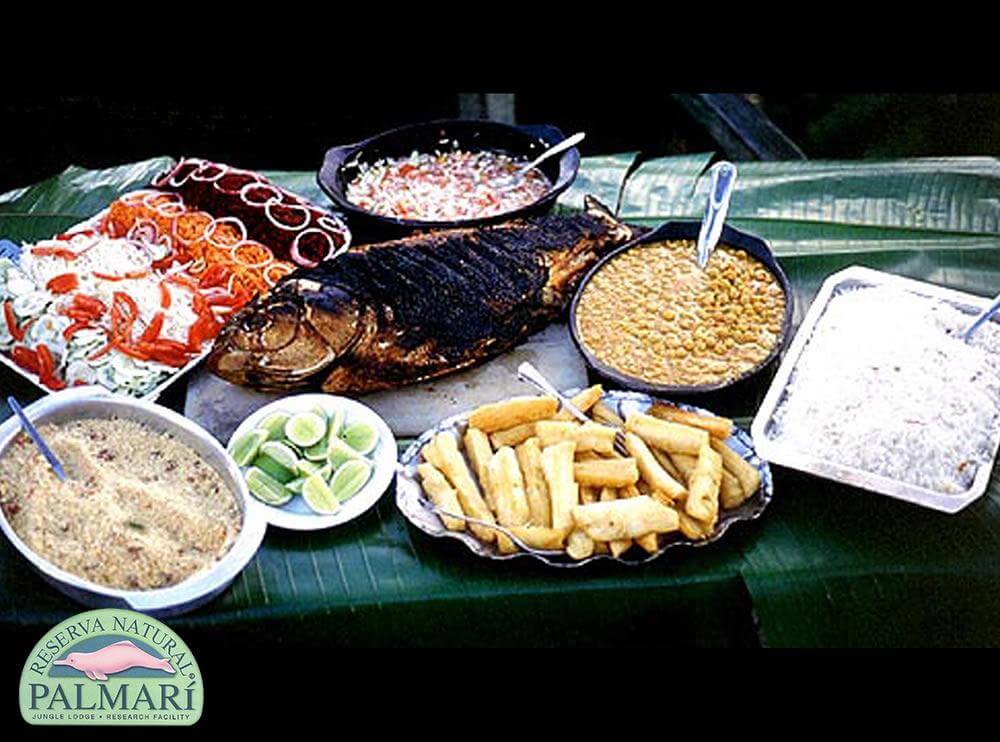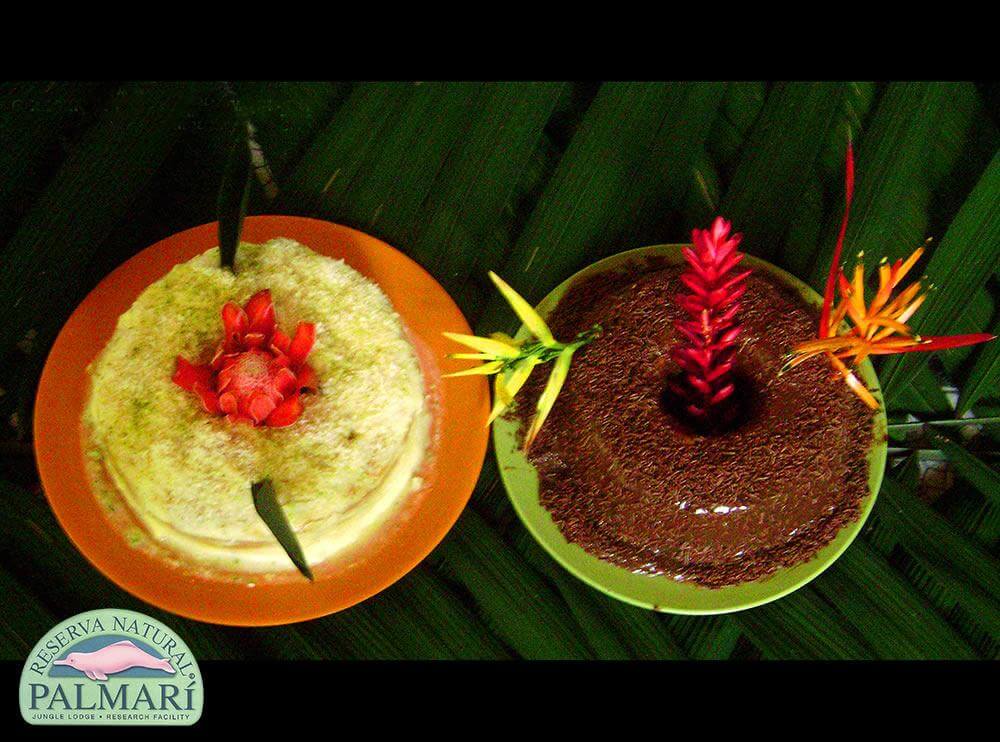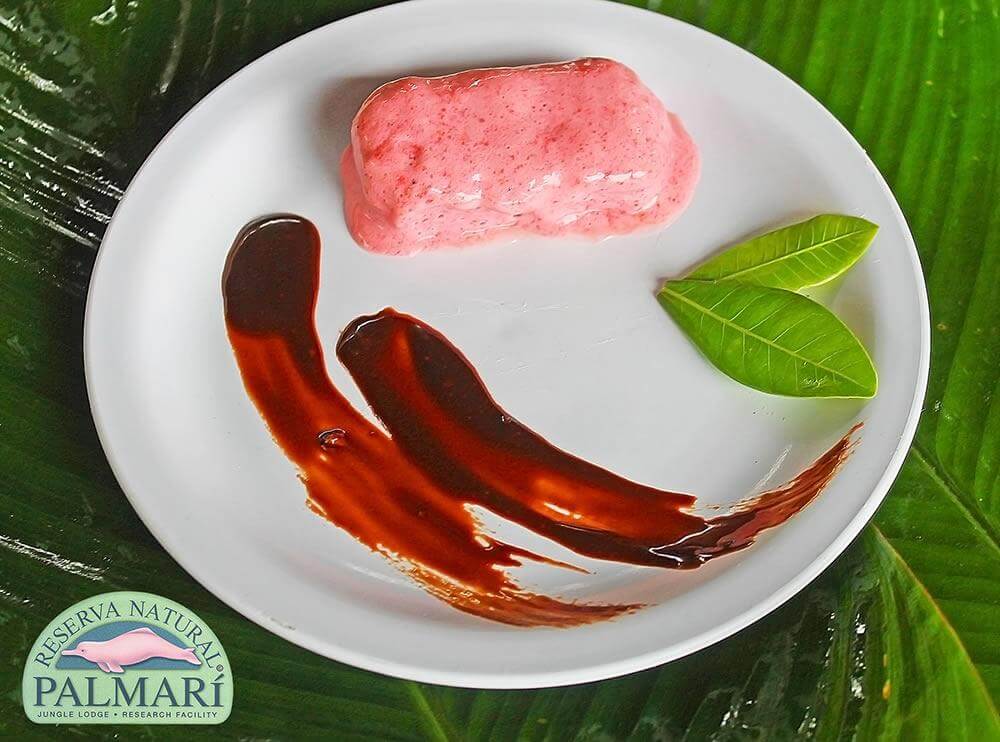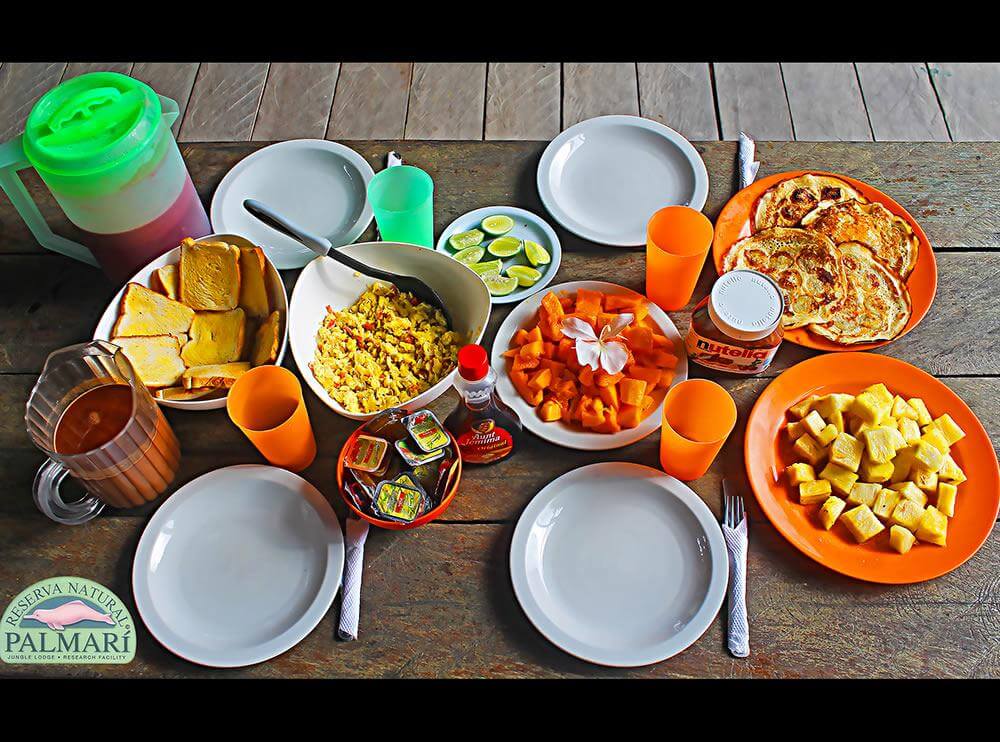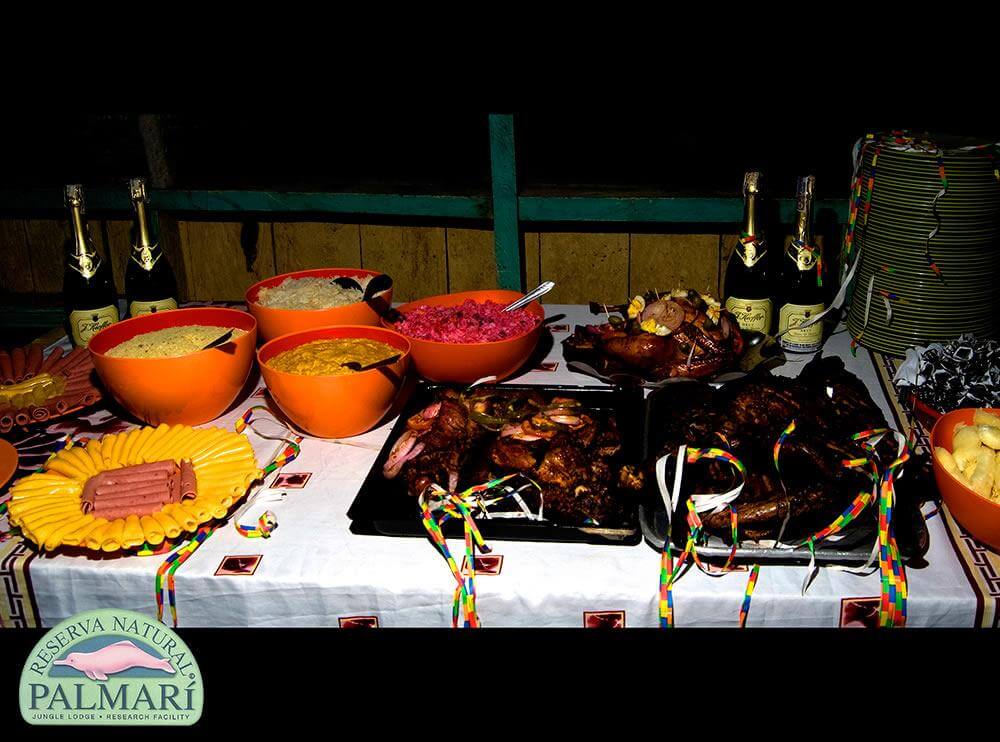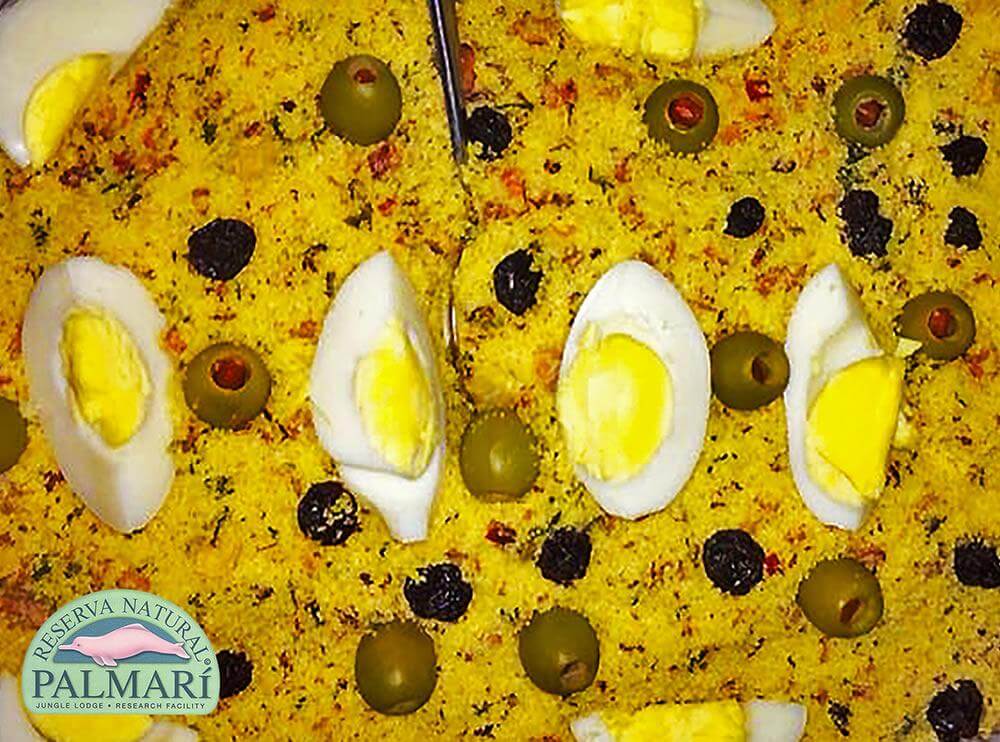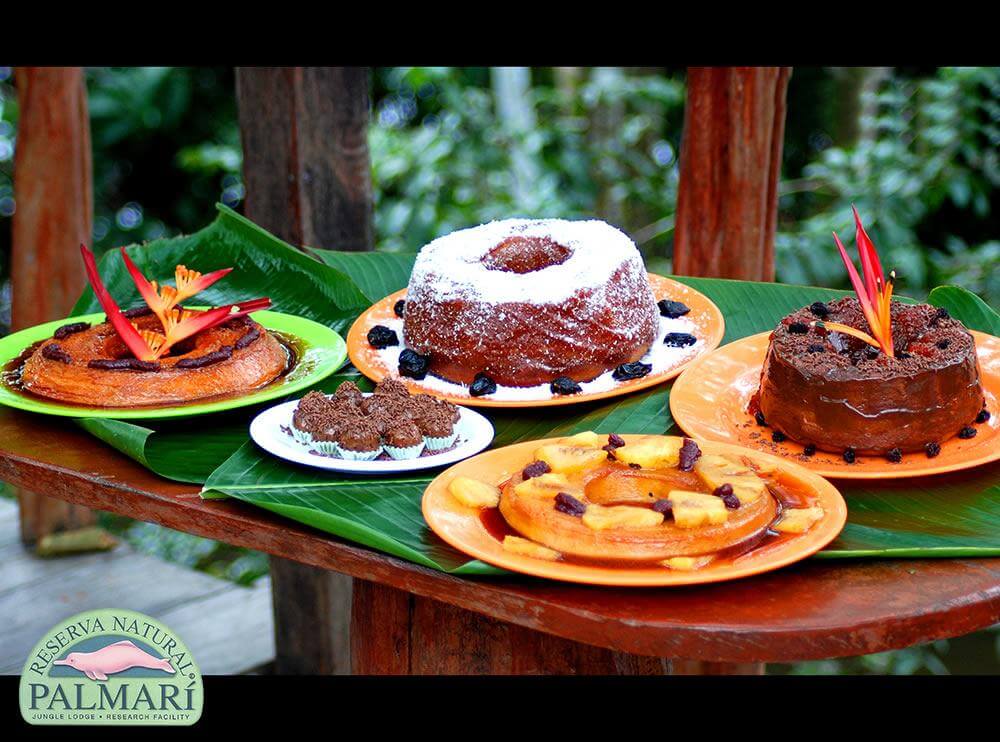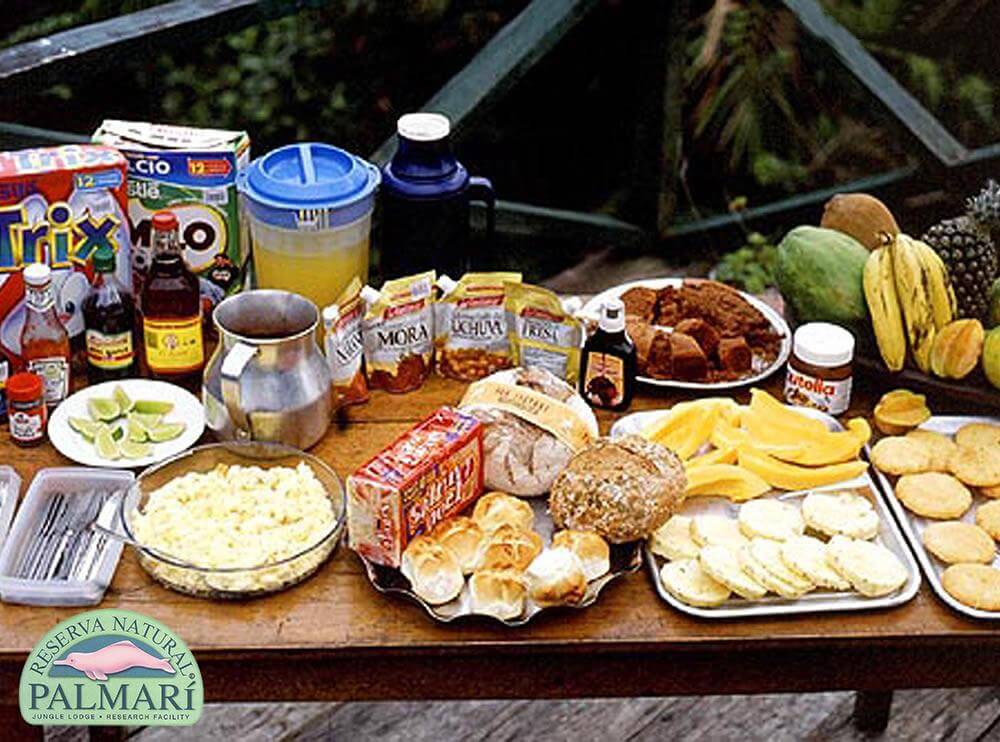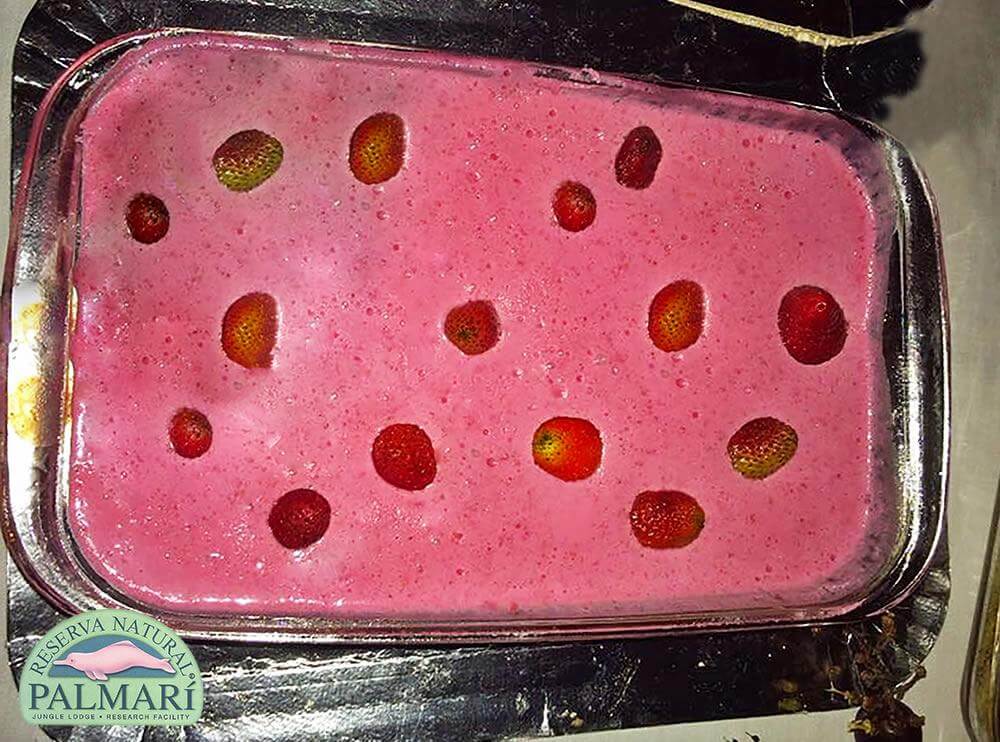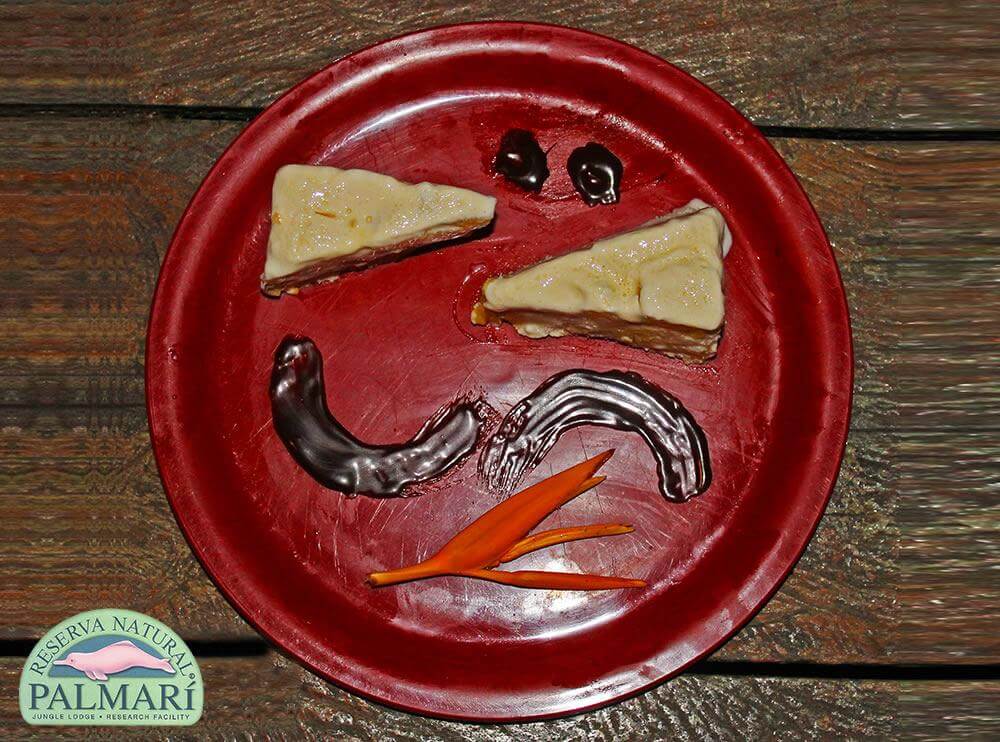 Breakfast consists of fresh fruit of the season, bread, "arepas" and other local backery products, various marmalades, Nutella, as well as eggs according to the desires of each guest, fresh fruit-juices according to season stirred in filtered water, pancakes with syrup or fruit marmalades plus coffee, hot cocoa and/or tee.

Lunch consists mostly of red, white meat or fresh fish "catch of the day" accompanied by rice, potatoes, pasta or manioc, as well as beans, chickpeas or lentils, hot vegetables and salads.
Supper will consist mayourly of light dishes like various kinds of pasta, mixed rice of various kinds, pizzas as well as fresh salads and similar.
Deserts will be served according to the seasonal fruits and products being present, as well as cakes, cookies and similar.
Any quantity of coffee, tea, fresh natural filtered well-water as well as fresh fruit juices stirred in fresh natural filtered well-waterwill be served as long as the stock lasts. Canned beer will be served also for free, as long as the stock lasts and only to adult guests; stronger alcoholic beverages can also be obtained for free as long as the stock lasts and are represented by brazilian dark rum and brasilian "cachaza", last which is used to prepare our famous "Palmarinha" ("Caipirinha our way"). Guests that wish to bring their own alcoholic spirits may do so at no extra charge.
During excursions or entertainment activities on water or on land our guides will offer free of charge small snacks and we ask our guests as to not forget to fill their own field-bottles with filtered water prior to leaving into the field.
For vegetarian, vegan, pescatarian, diabetic guests and/or other guests that have a special diet or are conditioned by certain allergies we confirm that our catering and kitchen personnel will adapt to these details, but we ask the relevant visitor to inform us well in advance in respect to these specific desires and needs as to allow our kitchen cheff to adjust his menue set-up accordingly and in good time.